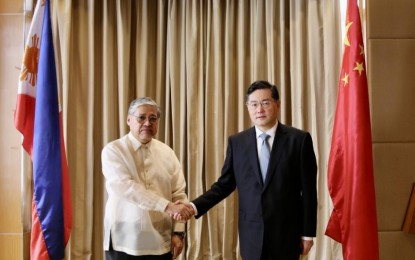 MANILA – The Philippine government will continue to adhere to the One China Policy amid Beijing's fears that the new Enhanced Defense Cooperation Agreement (EDCA) sites would be used to interfere in the Taiwan Strait tensions.
The reiteration was made during the bilateral meeting between Foreign Affairs Secretary Enrique Manalo and his Chinese counterpart, Foreign Minister Qin Gang, at a hotel in Manila on Saturday.
"(Foreign Affairs Secretary Enrique) Manalo reaffirmed the Philippines' adherence to the One China Policy, while at the same time expressing concern over the escalating tensions across the Taiwan Strait," based on the statement released by the Department of Foreign Affairs (DFA) after the first meeting of the two officials.
Chinese Ambassador Huang Xilian last week claimed that the United States intends to take advantage of the new EDCA sites "to serve its geopolitical goals, and advance its anti-China agenda at the expense of peace and development of the Philippines and the region at large."
President Ferdinand R. Marcos Jr. earlier named Naval Base Camilo Osias in Sta. Ana, Cagayan; Lal-lo Airport in Lal-lo, Cagayan; Camp Melchor Dela Cruz in Gamu, Isabela; and Balabac Island in Palawan as additional EDCA locations.
In the bilateral talks, Manalo emphasized that the Philippines pursues an independent foreign policy, "which seeks to ensure stability and prosperity in the region."
READ: PH has no intention to interfere in Taiwan issue - NSC exec
Meanwhile, Manalo and Qin agreed to increase collaboration and elevate the Philippine-China bilateral relations "to even greater heights" under the Marcos administration.
"The tripling of our total bilateral trade within the past decade is a positive development. The Philippines looks forward to the early realization of the USD22.8 billion business and investment pledges made during the state visit of President Marcos to Beijing," Manalo said.
The officials also highlighted infrastructure cooperation as a key sector for Philippines-China economic and development engagement, especially with the Philippines' "Build Better More" program dovetailing with China's Belt and Road Initiative.
Both look forward to the early completion of ongoing infrastructure cooperation projects. (PNA)