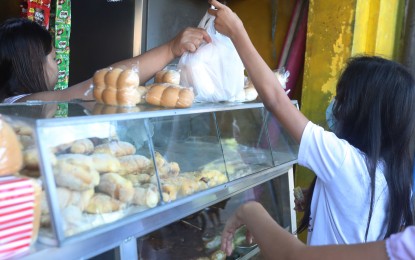 CUENCA, Batangas – The Asosasyon ng mga Panaderong Pilipino (APP) on Saturday assured that the prices of bread and other flour-based products would remain stable, at least for summer.
In an interview, APP president Lucito Chavez said suppliers of raw materials have given their assurances that the prices of bakery inputs would remain unchanged for the rest of the second quarter.
He noted that the series of bread price increases during the last quarter of 2022 until early this year was driven by a brief inflation surge, which, in turn, drove up the prices of flour, sugar, milk, and shortening, as well as diesel.
Diesel is important to the bakery industry because it fires up the ovens used in the mass production of bread, Chavez added.
It was noted that both community and commercial bakeries implemented a series of price hikes in just more than three months, which saw the prices of "tasty bread" (loaf bread) and the local staple "pandesal" (salted bread) raised by 10 percent to 15 percent.
However, Chavez explained that historically, the dry season sees a decline in demand for bread, cakes, and pastries.
"During summer, customers prefer cold and refreshing snacks instead of bread or sandwiches. Our sales are always lower when the temperature is high. It is a bad time to raise prices. Fortunately, inflation on our raw materials has stabilized and we will pass on the benefits to our customers," he added.
The APP, formerly known as the Cuenca Bakers Association, is symbolically headquartered in the town of Cuenca, Batangas, which is touted as the bakers' capital of the Philippines.
It is currently the largest community bakers organization in the country, and bakeries operated by its members are mostly located in Metro Manila and surrounding areas. (PNA)