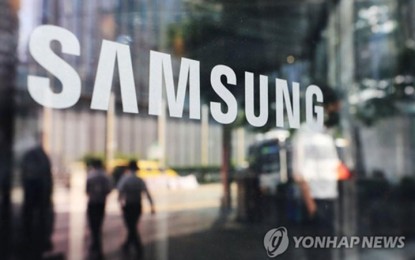 SEOUL – Samsung Electronics Co. is likely to post an operating loss in the second quarter on a chip downturn and decline in mobile demand, in what will be the first quarterly loss for the world's largest memory chip maker in nearly 15 years, according to analysts Sunday.
Samsung Electronics could suffer an operating loss of as much as 1.28 trillion won (US$961 million), according to an estimate by Hi Investment & Securities Co.
Among the local brokerages that gave a similar outlook, SK Securities expected 600 billion won in operating losses and Samsung Securities Co. forecast an operating loss of 279 billion won for the April-June period.
If realized, it will mark the first operating loss since the fourth quarter of 2008, when Samsung Electronics logged 940 billion won in operating losses.
The company estimated its operating profit fell 95.75 percent to 600 billion won in the first quarter in the earnings preview it released earlier this month.
Samsung did not disclose break-down figures for each business segment. It is due to report the detailed earnings Thursday.
Analysts predicted its Device Solutions unit, in charge of the chip business, had likely suffered an operating loss of 4 trillion won, but a solid growth in the mobile division, backed by the launch of its new Galaxy S23, probably helped the company secure the slim profit in the first quarter.
With the dismal first-quarter earnings estimate, analysts project a worse earnings result for the three months ending in June, as the effect from the new Galaxy launch is expected to diminish, while the global chip demand will likely remain sluggish.
"The first-quarter performance came from smartphones that mostly offset the big chip losses and the small profits in displays, home appliances and electronic components," Hwang Min-seong, an analyst at Samsung Securities, said.
"The effect of new smartphones will decrease in the second quarter, and we cannot rule out the possibility of (the company turning to) the red," Hwang said.
Following the earnings preview, Samsung Electronics said in a filing that it cut production to a "meaningful level" in the face of the downturn in semiconductor demand, in a sharp reversal of its previous position that it had no plans to cut output. (Yonhap)