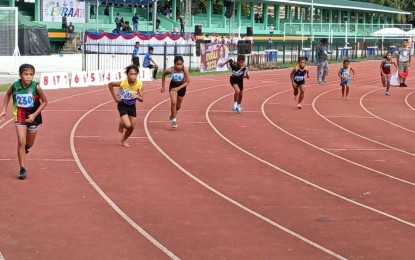 TACLOBAN CITY – Extreme heat prompted the Department of Education (DepEd) to hold outdoor games of the Eastern Visayas Regional Athletic Association (EVRAA) Meet only during the early morning and late afternoon.
Games began Sunday, but the opening ceremonies will be held Tuesday afternoon at the Leyte Sports Development Center.
At least 5,149 learners are joining this year's EVRAA Meet as the region selects the best athletes to compete in the national sports events.
Athletes competing in outdoor sports were asked to rest from 10 a.m. to 3 p.m. to avoid heat strokes and other heat-related illnesses, said DepEd Regional Director Evelyn Fetalvero in a press briefing Monday.
"We have been looking into the safety of our athlete learners. We have been experiencing heat, and part of the measures is to hold the games at 5 a.m. until 10 a.m. and from 4 p.m. until nighttime," Fetalvero told reporters.
The official added that all the sports events in the meet have their own designated medical teams.
Government agencies and local governments also deployed first responders to ensure the safety of all delegates.
"Everything has been taken into consideration. We conducted a series of meetings to ensure that all possible issues are being looked at," she added.
The DepEd central office has set aside PHP2 million for the EVRAA while the regional office allotted PHP1.5 million. The local governments of Tacloban City and Leyte province have also allocated nearly PHP10 million for the hosting of the said sports event.
For the first time in recent years, the EVRAA is co-hosted by two DepEd school divisions – Tacloban City and Leyte province – with the sporting events slated to take place in this city and the nearby towns of Palo and Tanauan.
DepEd Assistant Regional Director Ronelo Al Firmo said EVRAA winners will join the Pre-National Qualifying Meet for cluster 3 covering Western, Central, and Eastern Visayas and Zamboanga Peninsula regions.
The new level will only feature team sports such as baseball, basketball, football, futsal, sepak takraw, football, and volleyball.
The top two regional delegations per cluster will then advance to the actual Palarong Pambansa event on July 29 to August 5 in Marikina City.
The pre-national qualifying meet seeks to lessen the number of delegations, shorten the duration of the event, and lower the expenses to be incurred—all without sacrificing the level of play.
"The modified competition format aims to prevent the disruption of classes and to observe minimum public health and safety protocols," Firmo added.
Among the EVRAA sports events are swimming, archery, basketball, volleyball, softball, baseball, football, sepak takraw, table tennis, badminton, billiard, chess, dance sports, gymnastics, arnis, boxing, wrestling, taekwondo, wushu, and pencak silat. (PNA)