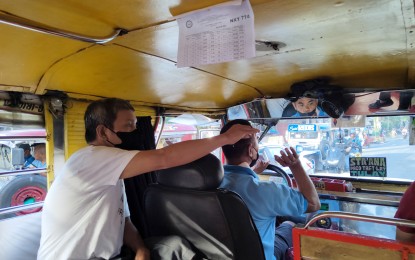 MANILA – CIBAC Party-List Rep. Bro Eddie Villanueva has filed a bill seeking to exempt public utility vehicle (PUV) drivers from paying application or renewal fees in securing professional driver's license.
"Exempting them from paying application or renewal fees in securing professional driver's license will greatly help in cushioning their meager income from the unabated price surge of fuel and from the adverse effects of the pandemic so that they will take home a larger disposable profit," Villanueva said in a statement on Monday.
Villanueva added that "he recognized that PUV drivers, who are key players of our public transport sector, are mostly minimum-wage earners."
Under the proposed House Bill 7796, no fee shall be imposed as charge in the license application or renewal of PUV drivers except for fees required to be paid to the government or institutions providing services and documents necessary in the application or renewal of driver's license, such as but not limited to medical or eye examinations from Land Transportation Office (LTO) accredited clinics, ID pictures, birth certificates and the likes.
Villanueva noted that in some rural areas, tricycle drivers are either driving without a professional driver's license or driving with an expired one which can be attributable to the high cost of fees in applying and renewing driver's license.
The exemption can be availed upon presentation of a certification from the local government unit that the applicant is a validated PUV driver, and a membership identification card issued by a recognized transport organization or a tricycle operators and drivers association (TODA).
HB 7796 defines PUVs as road-based motor vehicles that provide conveyance to the general public passenger and/or domestic cargo for a fee, offering services to the public, such as trucks-for-hire, UV express service, public utility buses (PUBs), public utility jeepneys (PUJs), tricycles, filcabs and taxis.
Transport vehicles accredited with or operating through Transport Networks corporations and individual are not covered by the proposed bill.
Currently, driver's license application/renewal fee is estimated be around PHP600 to PHP700, inclusive of the computer or processing charge.
The bill, however, penalizes PUV drivers who will submit falsified documents to avail of the exemption with a fine ranging PHP50,000 to PHP100,000 and/or imprisonment of one month to six months upon the discretion of the court.
"In consideration of their socio-economic plight, we call on Congress to pass this measure to alleviate the financial burden of our PUV drivers and encourage them to apply or renew their license," Villanueva said. (PNA)