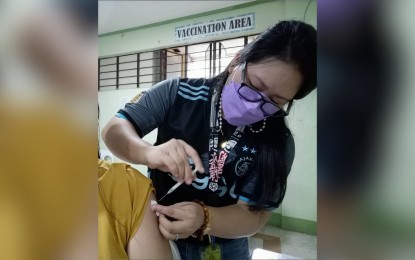 ILOILO CITY – Both the province and city of Iloilo are calling on their eligible population to submit to the coronavirus disease 2019 (Covid-19) vaccination to ensure protection as cases are on the rise.
"We encourage everyone to avail of booster shots. We have to wrap up vaccinations; we have to ensure that everyone is duly protected," said Iloilo City Mayor Jerry P. Treñas, in an interview on Monday.
Assistant City Health Officer Dr. Roland Jay Fortuna, in a press conference, said only 49.61 percent of the city's target population has availed of booster shots, higher than the 14.76 percent regional coverage.
Fortuna said they aim to reach at least 80 percent of the coverage for the primary dose, which currently is at around 78.59 percent and the booster dose at 38.9 percent.
Around 2,000 doses of Pfizer vaccines are currently available in district health centers. If there are bedridden elderly, then they will be visited by health workers.
The city government may also open a vaccination site at the Ker and Co. building to accommodate its employees.
The medical officer said that as of April 23, the city has 36 active cases out of the 187 cases recorded since the start of the year.
"We have monitored an increasing trend in cases since the start of April. If we recall in January we only have 34 cases or a daily average of one case, 33 cases in February, and 44 in March," Fortuna said.
"However, from April 1 to 23 we already have 84 cases with the daily average of four cases," he added.
The current positivity rate, he said, is now at 7.08 percent from the 1.78 percent on April 1; the average daily attack rate (ADAR) is at .72 percent, and the healthcare utilization rate is less than 25 percent.
Meanwhile, Iloilo Provincial Health Officer Maria Socorro C. Quiñon, in a separate interview with media, said as of April 23, the province has an average of four cases a day.
From April 9 to 22, the province reported 52 total cases against the 34 cases recorded from March 26 to April 8.
She added that of the 1,461,756 eligible population, 94.27 percent have availed of their first dose, 88.43 percent have second dose, 19.84 percent received their booster shots and 1.73 percent have their second booster.
Quiñon added that they are worried about the low coverage for the second booster among the elderly which is only at 2.92 percent.
"We encourage, with the increasing cases, that they get vaccinated," she added.
Vaccination is available at the lobby of the provincial capitol from Monday to Friday and on the third floor of the Robinsons Mall in Pavia every Saturday.
Despite the rise in cases, "we are happy to note that the province of Iloilo is still on Alert Level 1 classification because our average daily attack rate is .18, which is below one percent and health care utilization rate is 37.52 percent, which is below 50 percent," Quiñon said. (PNA)