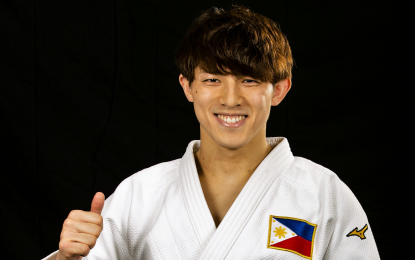 MANILA – Filipino-Japanese judoka Shugen Nakano will join the Asian Open before heading to Cambodia for the 32nd Southeast Asian Games.
The Asian Open will be held from April 26 to 30 at the Sheikh Abdullah Al-Jaber Judo Hall in Kuwait, while the judo competition in the SEA Games is scheduled on May 13-16 at the Chroy Changvar Convention Center in the Cambodian capital city of Phnom Penh.
"This (Asian Open) is the last tournament before the SEA Games. First of all, I don't want to get injured so I can face the challenge in Cambodia in perfect condition," the 26-year-old Nakano said on Monday night.
The world's No. 105 Nakano is the top seed among 26 entries in the -66kg category of the Asian Open which will be participated in by 128 athletes from four continents.
Abdulelah Aljayzani of Saudi Arabia, ranked No. 121 in the world, is the second seed followed by Aziz Harbi of Tunisia (No. 154), Mounis Hawsawi of Saudi Arabia (No. 159), Bolat Bilal of Kazakhstan (No. 214), Martin Lau of Hong Kong (No. 231), Erbol Abasbekov of Kyrgyzstan (No. 251) and Moath Ealsman of Jordan (No. 262).
"I will do my best to gain momentum in the SEA Games by winning a medal in this (Asian Open) competition," said Nakano, who is eyeing a third consecutive SEA Games gold medal.
Shugen and his twin brother Keisei are hoping to qualify for the 2024 Paris Olympics.
All the tournaments under the International Judo Federation (IJF) World Tour this year are qualifiers for the Olympics.
The Nakano brothers kicked off their Olympics campaign at the Grand Prix in Portugal followed by the Grand Slam in Tel Aviv (Israel), Tbilisi (Georgia) and Antalya (Turkey).
"I want to accumulate more points and boost my chance of qualifying at the Olympics," said Shugen, winner of the 2022 Tahiti Oceania Open.
Also seeking to qualify in Paris is the world's No. 117 Kiyomi Watanabe, who saw action at the 2020 Tokyo Olympics.
Watanabe has fully recovered from a foot injury that prevented her from defending the women's -63kg title at the 2022 Vietnam SEA Games.
Other tournaments lined up for the national judokas are the Asian Games in Hangzhou, China (Sept. 23-Oct. 8) and Asian Indoor and Martial Arts Games in Bangkok, Thailand (Nov. 17-26). (PNA)