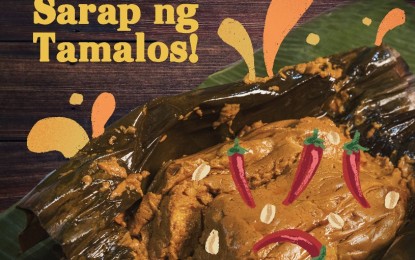 TACLOBAN CITY – The Visayas leg of this year's "Hapag ng Pamana" Philippine Food Festival, in celebration of Filipino Food Month, will highlight the "Secret Kitchens of Samar."
"The Secret Kitchens of Samar is a campaign of the provincial government under the Spark Samar tourism program, which features the province's culinary heritage that is on recipes long kept and treasured within their families," Samar tourism officer Marvin Piczon said in an interview on Tuesday.
The provincial government hosts the Visayas leg of the festival, which was organized by the National Commission for Culture and the Arts, together with the Department of Agriculture, Department of Tourism, and the Philippine Culinary Heritage Movement, as part of the celebration of Filipino Food Month.
Piczon said activities held in the provincial capital of Catbalogan City included the Amazing Food Race on April 24, the Banquete: Samarnon Food Forum on April 25-26, the Hapag Kainan on April 26, and the Secret Kitchens of Samar Gastronomy Tour on April 27.
Topics to be discussed during the two-day food forum include tourism and gastronomy, Samar's culinary heritage that paved the way for the discovery of Secret Kitchens of Samar, the culinary history of Samar, Samar food tradition and technique, innovation and local trends in the food industry, local food and culture, engaging the youth in agriculture, and Hapag Ng Pamana.
Among the culinary heritage of Samar is the "tamalos" of Catbalogan, a variation of the "tamale," a dish of Mexican origin. Slabs of pork belly are drizzled with a rich peanut sauce and wrapped in banana leaves with rice and steamed for hours.
Another food that can only be found in Samar is the "borracho," a sponge cake that is rum-soaked and fermented for five days to truly bring out its flavors; the "queseo" of Gandara town – a cottage cheese made from carabao's milk; and "sisi," a fermented shellfish that is a good addition to a salad or a side dish enjoyed with a squeeze of calamansi.
Before Samar's cuisine, food from Luzon was featured on April 18-19 during the Hapag ng Pamana event in Laoag City, Ilocos Norte.
Mindanao's rich culinary heritage will take center stage in Southern Cotabato this April 28-30.
The Hapag ng Pamana Philippine Food Festival is a showcase of food, cooking demonstrations, cultural shows, and other activities featuring the regional culinary heritage of Luzon, the Visayas, and Mindanao.
The event aims to provide an avenue to celebrate the collaborative efforts of various stakeholders in preserving and promoting their local cuisines.
Filipino Food Month is celebrated every April, as directed under Presidential Decree 469 issued in 2018 to recognize and celebrate the rich and diverse culinary heritage of the Philippines.
This year's celebration is anchored on the theme "Pagkaing Sariling Atin, Mahalin, at Pagyamanin." (PNA)