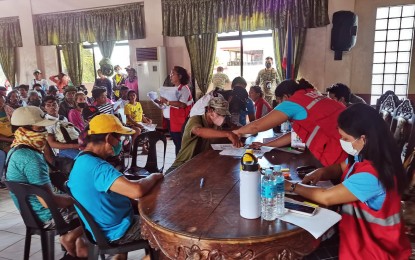 DUMAGUETE CITY – The first batch of individuals locked in a land conflict in Barangay Napacao in Siaton, Negros Oriental on Tuesday received PHP3,000 cash each under the government's Assistance to Individuals in Conflict Situations (AICS).
The Department of Social Welfare and Development (DSWD) National Office distributed the cash aid during a simple ceremony in Siaton.
The assistance comes five months after the late Gov. Roel Degamo had promised to help the Paglaum sa Mag-uuma sa Negros Oriental (PAMANO) while they were awaiting a resolution of their concerns raised with the Department of Agrarian Reform (DAR), such as a petition for inclusion/exclusion under the Comprehensive Agrarian Reform Program (CARP).
The first batch of 119 beneficiaries, who hail from different barangays in Siaton, received their individual cash assistance after they were profiled and had completed their documentary requirements.
The second batch comprising 190 other farmers will be receiving the same assistance on Friday.
The beneficiaries are members of the PAMANO farmers' group who have occupied without legal authority a piece of private property in Napacao for over a year now.
They are facing eviction after the landowner filed an ejection case against them for illegally occupying the property.
Siaton municipal and barangay officials called on the beneficiaries to vacate their shanties at the property they had illegally occupied in Napacao and return to their homes or else face eviction.
Councilor Jundy Diaz said that the municipal government under Mayor Cezanne Fritz Diaz will do its best to assist these farmers to find land for them as well as look for possible socialized housing options.
"It is unfortunate that Governor Roel Degamo was killed before he could follow through with his promise of finding land for these farmers so that they will vacate the property that they are occupying right now in Barangay Napacao," he said in mixed English and Filipino.
Nevertheless, despite Degamo's demise, the local government will do its best to address the concerns of PAMANO, he added.
Lt. Col. Roderick R. Salayo, commanding officer of the Philippine Army's 11th Infantry Battalion, noted the concerted efforts of government agencies to help address the plight of the PAMANO members in a whole-of-government approach.
He said that while this land conflict is not insurgency-related, the provincial Task Force to End Local Communist Armed Conflict (TF-ELCAC) had to intervene and find ways to ease the tension at the Napacao property to avert possible violence.
"The peasant groups and other marginalized sectors are more vulnerable to recruitment and influence by the communist terrorist groups and so, we have to prevent this from happening," the Army commander said in Cebuano.
"Problems such as this tend to be used to instigate confrontation and dissent against the government," he added.
Salayo said some left-leaning quarters have "agitated" the PAMANO members to persist in their quest to acquire land in a "confrontational manner".
Late last year, the military and the police recovered eight firearms from some PAMANO members who claimed they had to arm themselves for protection.
Recently, a skirmish erupted between some of the informal settlers and blue guards at Napacao.
Meanwhile, the DSWD, local and barangay officials, and the military commander called on the beneficiaries to make use of the cash assistance in improving their lives. (PNA)