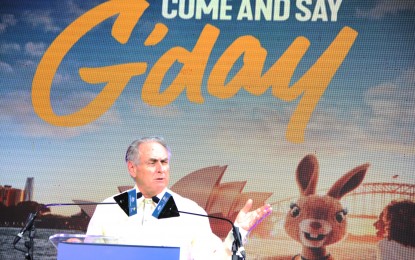 MANILA – Australia sees the Philippines as a promising tourist source market amid a "growing segment" of high-value leisure traveler looking at the country as a holiday destination, the Australian Embassy in Manila said.
In a statement dated April 24, Australian Ambassador HK Yu attributed this to the more than 400,000 people of Filipino descent who attract families and friends to visit Australia.
"The Philippine tourism market has so much potential to grow. Before the pandemic there were nearly 160,000 arrivals from the Philippines to Australia," she said.
The envoy said 4 percent of these went to Australia to study, 31 percent for holiday vacation and a big chunk or about 43 percent visited either relatives or friends.
She emphasized that people-to-people ties remain a strong driver of travel between the two states.
During his five-day official visit to Manila, Australian Tourism and Trade Minister Don Farrell said Canberra hopes to further increase these connections and attract more Filipinos to visit the country.
"We want to build on this link between our two countries. We've got lots of things in common, not just the fact that we all speak English so it's an easy place for Filipinos to come to Australia, it's also very easy for Australians to come to the Philippines, and of course you get such a wonderful welcome," he said.
There are at least 31 direct flights a week from the Philippines offered by Cebu Pacific, Philippine Airlines and Qantas.
Direct flights are available between Manila and Sydney, Melbourne, Brisbane, and Perth.
Farrell also formally launched in Manila Canberra's tourism campaign Come and Say G'day which highlights Australia's vibrant cities and nature destinations, among others.
Farrell was in Manila from April 20 to 25 and met with various ranking government officials, including National Economic and Development Authority (NEDA) Secretary Arsenio Balisacan to discuss ways to strengthen ties in mining, tourism and infrastructure. (PNA)