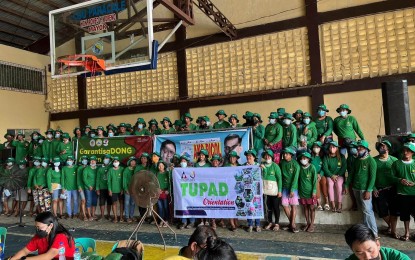 LEGAZPI CITY – At least 844 displaced workers in Camarines Norte province have been provided with a means of livelihood through the Tulong Panghanapbuhay sa Ating Disadvantaged/Displaced Workers or TUPAD program.
TUPAD is a project of the national government through the Department of Labor and Employment (DOLE) and is being implemented in the province with the help of Ako Bicol (AKB) Party-List Representative Elizaldy Co.
The beneficiaries will render 10 days of work in their community, for which they will receive PHP3,650.
In an interview on Wednesday, Sally Luces, AKB media relations officer, said the program will provide immediate assistance to the locals who are currently unemployed as a result of the pandemic.
"The beneficiaries, before the pandemic, were engaged in different works like vendors and farmers. Some are employed in neighboring provinces like Laguna and Cavite on a contractual basis that provides income for their families, but when Covid-19 started, most of them lost their jobs and returned to Camarines Norte. The 844 beneficiaries are from the municipalities of Vinzons, San Lorenzo Ruiz, Mercedes, Daet, Basud, San Vicente and Talisay. They attended an orientation program and started their 10-day work Tuesday," she said.
Luces said the residents were briefed about the TUPAD program, its benefits, and the responsibilities of the beneficiaries. Their tasks will include cleaning the streets, canals and the environment in their barangay, hauling garbage, planting, and other activities that will improve their communities.
Luces said to become a beneficiary of the TUPAD program, individuals must be unemployed or displaced and meet the criteria of being disadvantaged.
"If interested, they may go to the Ako Bicol Party-List office in the six provinces of the Bicol region and look for the coordinator to get more information on how to apply. AKB and DOLE are committed to helping the marginalized sectors in the community," she said.
In a statement, Co, who is chair of the House Committee on Appropriations, said the TUPAD program will have a significant impact on the beneficiaries' families as it will provide them with a source of income, even for just 10 days.
"We understand the challenges that our constituents are facing, particularly in these trying times. With the TUPAD program, we hope to provide them with a temporary means of livelihood and help ease their financial burden. Our commitment to serving the marginalized sectors in our community remains steadfast, and we will continue to work towards their welfare and progress," Co said.
With the TUPAD program, he said the government hopes to alleviate the economic difficulties that the beneficiaries are experiencing.
"We are delighted to see the positive impact of the TUPAD program on the marginalized sectors of our community. We will continue to work with our partners in government to provide immediate assistance to those who need it the most. Our goal is to help uplift their lives and provide them with opportunities to improve their economic standing," Co said. (PNA)