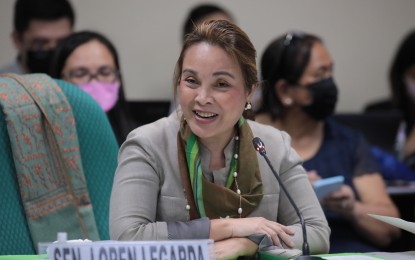 MANILA – Senate President Pro Tempore Loren Legarda urged women leaders to put the goal of climate change adaptation and disaster risk management on top of their priority list noting that other than environmental issues it will also pose a risk to socio-economic and political stability.
Speaking at the launching of the Women International Network for Disaster Risk Reduction (WIN DRR) on Wednesday held at the SM Mall of Asia in Pasay City, Legarda highlighted the vital role of gender equality in addressing environmental issues.
"Climate change affects all of us, but how men and women are affected is different. It is not gender-neutral. Women are found to be more affected by climate impacts than men because of cultural and societal roles and prevailing gender inequalities," she said.
Legarda said women, particularly in fragile and conflict-ridden areas, become more vulnerable to gender-based violence, such as conflict-related sexual violence, human trafficking and child marriage.
She added that climate change and disasters further exacerbate the health risks for women due to limited access to adequate healthcare and services, a serious concern that must be address with a sense of urgency.
She believes that policies related to climate change must prioritize integrating gender considerations throughout the planning, financing and implementation stages.
Legarda, a long time advocate for women's empowerment and the environment, authored Republic Act 9729, or the Climate Change Act, which includes a provision that at least one of the commissioners of the Climate Change Commission (CCC) must be female.
This provision aims to integrate the gender lens and gender-responsive approaches into the policies and programs on climate change.
Several actions have already been taken to address the growing concern about climate change. But this year, being ranked as the world's most at-risk country among 193 countries worldwide in the World Risk Index 2022, Legarda reminded the women leaders attending the WIN DRR launch that there is still much more to be done.
"We need crisis and disaster risk women leaders to save more lives. We women leaders from grassroots groups to global organizations can step up to drive meaningful action. It is time to be bold, take responsibility, and create a more climate resilient world, which requires taking decisive action and making significant changes to the way we live and interact with the environment. Together, we can strive towards a vision of a more resilient and sustainable future," the senator said. (PNA)