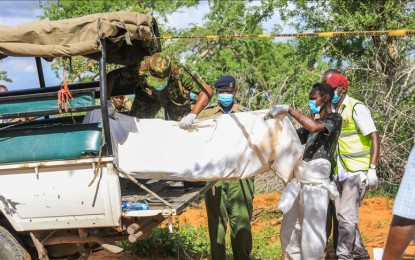 NAIROBI, Kenya – The death toll from Kenyan cult leader Paul Mackenzie's church rose to 95 after the bodies of eight children were exhumed Wednesday from his homestead.
The children, whose relatives are suspected to be members of the cult, are believed to have starved or starved themselves in hopes of meeting Jesus.
Coastal Area regional boss Rhoda Onyancha told reporters that a 30-day curfew had been imposed in the area.
"The total number of those who have lost their lives is 95, and because this is an area where we are going on with arrests also, so far we have 22 in custody," said Onyancha.
"Nobody is allowed to go inside," he said, referring to a ban on accessing the exhumation site enforced by the Interior Ministry which has marked the area as disturbed.
The media and non-state actors have been also banned from the site of the exhumation.
The exhumation took place one day after Interior Minister Kithure Kindiki visited the area to assess the situation.
Mackenzie, who owns the 800-acre plot of land, has been accused of brainwashing his followers and leading them to their deaths.
Authorities have promised to bring those responsible to justice.
The rise of cult-like churches in Kenya has become a growing concern with some leaders using extreme teachings that put their followers' lives at risk. (Anadolu)