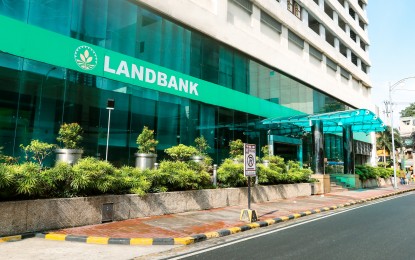 MANILA – State-owned Land Bank of the Philippines (Landbank) surpassed by PHP2 billion its first quarter 2023 net income target after it hit PHP10.8 billion.
In a statement on Thursday, the bank said that while the net income in the first three months this year is 18 percent lower than the unprecedented PHP13.2 billion during the same period last year, this already accounts for 30.8 percent of the bank's PHP35 billion full year target.

It attributed the net income in January to March period to higher interest income and lower operating costs.

The bank said interest income jumped by 54 percent year-on-year to PHP20.9 billion amidst the rising cost of funds and interest rates.
Assets expanded by 11.7 percent to PHP3.1 billion due to increase in deposits to PHP2.8 trillion, bulk of which at 71 percent is accounted for by the government sector.

Capital rose by 3.2 percent to PHP225.3 billion.

"This expansion was driven by the bank's net income, notwithstanding the dividend remittance to the national government in June 2022 worth PHP8.45 billion and the decline in other comprehensive income," it said.
Landbank said return on equity is at 12.46 percent and net interest margin at 3 percent, both at healthy levels.
Landbank president and chief executive officer (CEO) Cecilia Borromeo said the bank's "robust financial position allows us to advance the national government's development agenda."

This, as the financial institution maximizes yields from earning assets while being prudent with its expenses, she said.

"We are fully capable to continue extending intensified support to the agriculture sector and other key economic industries, while driving sustainable growth in local communities," Borromeo added. (PNA)