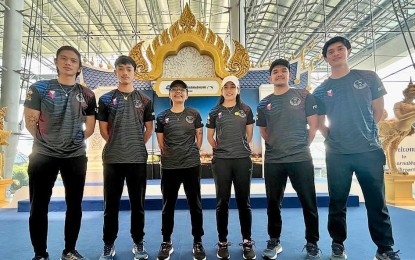 MANILA – Six players from the Philippine Squash Academy arrived in Thailand on Thursday to join the 83rd Chiengmai Jumbo Doubles Cup scheduled from April 28 to May 1.
Robert Andrew Garcia, David William Peliño, Reymark Begornia, Mel John Arebado, Jemyca Aribado and Yvonne Alyssa Dalida will be up against players from Australia, Brunei, Hong Kong, Malaysia, Singapore and Thailand in the tournament to be held at the Royal Bangkok Sports Club.
The Filipinos are first-timers in the tournament but they vowed to perform well.
"I'm setting my sights on the gold medal," said Garcia, who won two of the three-leg Philippine Satellite Series this month. He is the highest Filipino in the Professional Squash Association (PSA) men's rankings at No. 166.
PSA is the world governing body responsible for the administration of professional squash.
Garcia and Peliño have won two titles this year -- the President's Cup Singapore Open and the Philippine Jumbo Doubles Championships last February.
Dalida, whose partnership with Arebado began in 2016, has a modest goal.
"Actually, our target is to reach the quarterfinals or better. We're in an Open category so mostly, we're playing against men's tandem. We're in the same category as Robert and David," said the 30-year-old player who was born in Pasay and is now residing in Imus, Cavite.
"We're used to playing against men. Our sparring partners during training are men. But of course, their strength is different. As long as we can give them a good match, it's okay for me and Jemyca," she added.
Dalida and Arebado bagged the gold medal at the SEA Cup twice (2016 and 2020) and the silver medal at the 2017 SEA Games and 7th SEA Jumbo Doubles Championships (2022).
During the 2019 Manila SEA Games, the mixed team of Garcia, Peliño, Begornia and Aribado won the gold medal.
The national squash team also won two silver medals coming from the men's singles (Garcia) and men's team (Garcia, Peliño, Begornia and Christopher Buraga) and two bronze medals from the women's singles (Aribado) and women's team (Dalida, Aribado and Jimmie Avila).
After the Thailand event, the Filipino squash players will also compete in Singapore (May), and Hong Kong and India (June).
All these tournaments are part of the team's exposure in preparation for the Asian Games set Sept. 23 to Oct. 8 in Hangzhou, China. (PNA)