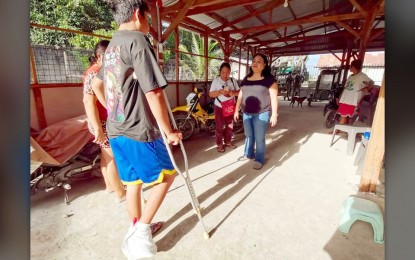 DUMAGUETE CITY – Survivors and the families of those who died in the mass shooting in Pamplona, Negros Oriental where Governor Roel Degamo was killed will finally get psychological and stress interventions that would help them cope with the traumatic experience.
Three to five psychiatrists from Cebu will render their services to the survivors and families of those killed in the March 6 mass shooting, said Provincial Health Office (PHO) chief Liland Estacion, who herself was a victim of the incident.
"Around three to five psychiatrists from Cebu are coming this weekend to cater to the needs of the massacre victims so they can cope with the post-attack behavioral, physical, psychological, and emotional stress," she told the Philippine News Agency (PNA) on Thursday.
The team will be led by Cebu-based psychiatrist Dr. Glenda Basubas.
The first of a series of psychological interventions will be held in Pamplona town, where many of the massacre casualties came from, she said.
On May 5 and 12, similar activities will be held at the PHO in this capital city, she added.
The psychological debriefing will start as group sessions. Doctors will decide who would need individual interventions.
She called on all the individuals who were present at the massacre to avail of the free services of the psychiatrists.
Estacion said she, too, would undergo the debriefing.
The PHO chief was shot in the left leg as she was seated next to Degamo when the gunmen sprayed gunfire at a large crowd in the governor's residential compound.
Peace covenant pushed
Meanwhile, newly designated acting provincial police director Col. Alex Recinto said he plans to seek the cooperation of local government leaders in the province to sign a peace covenant to ensure that the disturbing incident that shocked the country would not happen again.
Recinto said he initially discussed the idea with Dumaguete Mayor Felipe Antonio Remollo and Dauin Mayor Galicano Truita pledged to help him convince other mayors and local officials to support the program dubbed Negros Oriental for Peace and Prosperity as One.
"Mayor Truita and I will be the ambassadors for peace in the NOPPO (Negros Oriental Police Provincial Office) objective, and we will do our best to convince the mayors to help the province bounce back from the harrowing experience of the massacre," he said partly in Filipino. (PNA)