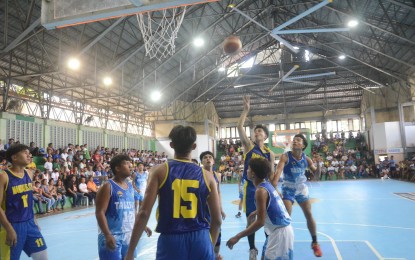 CEBU CITY – This capital city bested 19 other localities in Region 7 in the partial medal tally of the ongoing Central Visayas Regional Athletic Association (CVIRAA) Meet 2023 held at the Carcar City Sports Center.
A partial official result released by the organizers as of 5 p.m. Thursday showed that Cebu City has pocketed 14 gold, 13 silver, and 25 bronze medals based on its overall -- elementary and secondary division – score.
Athletes from this city's secondary division bagged 11 gold, nine silver, and 17 bronze medals while its elementary division took out three gold, four silver, and eight bronze medals.
The capital city ranked first for its secondary division, however, it landed seventh place for the elementary division.
Bayawan City landed second in the overall tally, bagging 13 gold, six silver, and four bronze medals.
This second-class component city of Negros Oriental relied its score largely on the secondary division taking 11 gold, five silver, and four bronze medals.
Cebu province ranked third in the medal tally, garnering 12 gold, 15 silver, and 11 bronze medals, followed by Negros Oriental with nine gold, eight silver, and 12 bronze, and Dumaguete City's eight gold, five silver, and nine bronze medals.
The other localities that garnered medals are: Mandaue City (8 gold,4 silver,7 bronze); Bohol province (6,7,16); Toledo City (6,5,3); Tagbilaran City (5,13,4); City of Naga (3,1,2); Lapu-Lapu City (2,5,5); Guihulngan City (2,2,2); Danao City (1,3,1); Bais City (1,1,3); Carcar City (1,1,0); City of Bogo (1,0,1); Siquijor (0,1,1); Tanjay (0,1,1), Canlaon City (0,1,1); and Talisay City (0,0,1).
Lt. Colonel Mark Gifter Sucalit, deputy provincial police chief for operations, said the CVRAA that will end on Friday is generally peaceful as the authorities received no reports of untoward incidents.
Sucalit said the provincial police deployed more than 300 police personnel in Carcar City to ensure the security and safety of the athletes, organizers, and supervising personnel. (PNA)