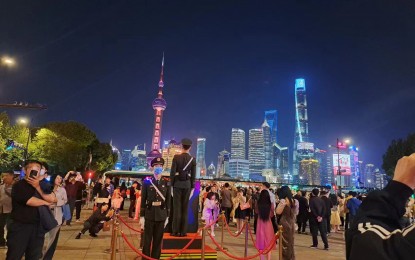 BEIJING, China — Workers here will have the most needed long break as the government announced a five-day holiday from April 29 to May 3 in celebration of International Labor Day.
This includes Filipino worker Ereneo Galendrez Jr., a mixed martial arts coach at the Tigerking Mixed Martial Arts Academy in Chaoyang District here, who said he would hang out with colleagues and friends over a few drinks while belting out their favorite songs in karaoke.
He also plans to go around the city on his scooter.
Working here for the last 13 years, Galendrez said the long holiday has always been welcomed by all workers in China. This is the break they need to treat themselves and relax.
A native of Cagayan de Oro City, Galendrez, however, said this depends if one still chooses to work. "Kung may raket, magtrabaho ako para dagdag kita (if there is extra work, I will work for added income)."
Allen Carillo, Third Secretary and Vice Consul of the Philippine Embassy in the People's Republic of China (PROC), said he would just spend his time in this capital to visit parks and local tourist attractions.
He said he wanted to see other places outside Beijing but all trains and planes were fully booked.
Even Chinese workers, he said, are excited over the long holiday. Residents and businessmen alike are busy with their "revenge travel" around and outside the country.
He added that the long holiday is a welcome development after the pandemic.
Meanwhile, Carillo said they will host an agriculture and tourism fair at the Embassy compound as part of the Labor Day celebration.
The five-day holiday was first announced by the State General Office of the PROC in December 2022.
It was in 2020 when the Chinese government issued the 5-day celebration in honor of the workers and to boost consumer spending.
More than 80 countries around the world observe the International Labor Day on May 1.
Data showed that in 2020, the holiday in China led to spending of 47.56 billion yuan (USD6.86 billion) on domestic travel from over 115 million domestic tourists.
"Labor day coincides with the intersection of spring and summer, a pleasant climate, many people hope to go out in the spring when flowers, family visits, leisure. It is also in response to the voice of the people and to better meet the needs of the diverse masses of the people," Xinhua News Agency said in an earlier report. (PNA)