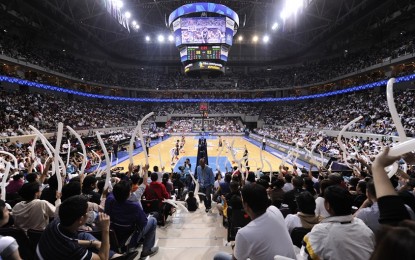 MANILA – The Mall of Asia Arena in Pasay City will host the FIBA World Cup final phase, instead of the Philippine Arena in Bocaue, Bulacan.
The FIBA Central Board arrived at the decision during its meeting in the Philippines on Friday.
"The main concern leading to the decision was the requirement to provide consistent and swift transfer of the teams and fans to multiple games over the six days of the final phase," FIBA said in a statement.
The Philippine Arena in Bocaue, Bulacan was scrapped as site of the playoffs after observing "serious traffic and transport concerns" in and out of the arena.
Among the events that took place at the Philippine Arena this year were Game 7 of the PBA Commissioner's Cup Finals won by Barangay Ginebra against Bay Area in January and the sixth window of the World Cup qualifiers a month later.
"Despite improvements tested with transport and traffic engineers, the Board came to the conclusion that an event with multiple sessions in one day, like the final phase of the World Cup, couldn't be delivered to the standards required for the players and fans experience," FIBA further said.
In a separate statement, Samahang Basketbol ng Pilipinas president Al Panlilio explained that the decision was based on how the fans felt when they go in and out of the Philippine Arena.
"The priority that led to this decision is the experience of our fans. This is in service of the Filipino basketball fan, as well as those arriving from all over the world," Panlilio said.
To make up for the arena change, FIBA said that Gilas Pilipinas' first two home games will be played at the Philippine Arena "in order to keep a key component of the bid, which was to establish a record of attendance at the World Cup."
"We thank our brothers and sisters from the Iglesia ni Cristo and the Philippine Arena management, specifically, for being a true partner in this endeavor and we appreciate their support of the final decision that was reached," Panlilio added.
The Bulacan arena, which has a seating capacity of 55,000, was built by the religious sect,
Officials of the FIBA Central Board, SBP and Philippine Olympic Committee also paid a courtesy call on President Ferdinand R. Marcos at Malacañang Palace in Manila.
In other developments during the meeting, the next FIBA World Cup will be played in Qatar in 2027, while the women's edition a year earlier will take place in Germany. (PNA)