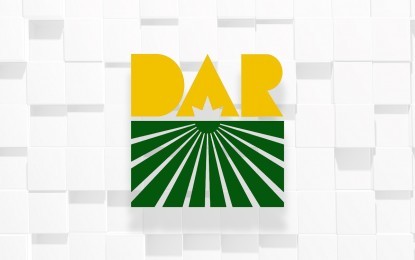 MANILA – A total of 1,053 agrarian reform beneficiaries (ARBs) from Central Luzon have received their land titles from the Department of Agrarian Reform (DAR) covering 1,170 hectares of agricultural lands.
In a press release issued on Friday, DAR Secretary Conrado Estrella III said they distributed a total of 1,073 land titles to qualified farmer beneficiaries.
Of the total land titles, about 636 were distributed to 585 ARBs under the regular Land Acquisition and Distribution program of DAR covering 393 hectares, while 437 electronic land titles (e-titles) covering around 709.04 hectares were given to 438 deserving ARBs under the Support to Parcelization of Lands for Individual Titling (SPLIT) Project.
Moreover, around 68.02 hectares of land owned by the local government of Palayan City in Nueva Ecija were also distributed to 30 ARBs.
Aside from Nueva Ecija, other ARBs who received land titles were from the provinces of Aurora, Bataan, Bulacan, Pampanga, Tarlac, and Zambales.
SPLIT Project is the parcelization of lands and issuance of individual land titles to ARBs who were previously awarded with lands under collective certificates of land ownership award (CCLOAs).
Estrella personally led the distribution of land titles on Thursday, together with Senators Imee Marcos and Francis Tolentino.
"As we accelerate the distribution of land titles to the ARBs, we personally hand over these land titles to them to bring the people closer to the government and listen intently to their needs to help them improve their economic lives," Estrella said.
During the turn-over ceremony, DAR also distributed various farm machinery and loan packages to deserving ARB organizations.
Estrella said the activity is in line with the directive of President Ferdinand R. Marcos Jr. to intensify the distribution of land titles to emancipate farmers from the bondage of the soil.
Meanwhile, Senator Imee Marcos said empowering farmers is exactly his father's dream.
"After so many years, we are now seeing the realizations of my father's dream," she said.
Tolentino commended the DAR for this activity, saying he is looking forward to the day when the agrarian support package would be delivered by the government entirely as one.
Estrella said the ARBs who received their lands would soon be free from mortgages once the New Agrarian Emancipation Act is signed by the President. (PNA)