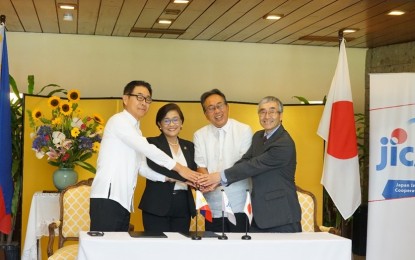 MANILA – The Japanese government is extending assistance to help Ilocos Norte improve its black garlic production.
Under a preliminary agreement reached at the Makati residence of Japanese Ambassador Kazuhiko Koshikawa on Friday, the Japan International Cooperation Agency (JICA) will fund a "business verification survey" for the value chain of black garlic in the region, which will be implemented by the Mariano Marcos State University (MMSU) and Japanese firm Takara Inc.
The business supporting survey links partner countries with Japanese firms that provide appropriate technologies to match the former's development needs, JICA said.
Once formalized, MSSU President Shirley Castañeda said the project would run for three years.
"By the third year, we shall be able to adapt the technology of Japan for the black garlic production and we shall be able to improve the agricultural production processes in the Philippines. Hopefully we could grow the garlic bulbs bigger," she told reporters following a signing ceremony for the minutes of the meeting.
Citing data from Takara, Castañeda said black garlic could sell three to four times higher than regular garlic.
"May market na ito (black garlic). Marami nang nagkakagusto, in fact, hindi sapat ang supply (We already have a market for black garlic. Many consumers are liking it, and in fact, there is a lack of supply)," she said.
Takara's black garlic is processed in a specialized oven with the right mix of heat and moisture to achieve its distinct dark color. It is then aged to amplify its traditional health benefits, resulting in garlic rich in antioxidants.
Citing the research of former Hirosaki University Professor Dr. Jinichi Sasaki, Takara said black garlic also helps natural killer cells become active and attack cancer cells in research using mice.
The Japanese Embassy said a demonstration farm would be established inside the MMSU campus in Batac City and three other municipalities in Ilocos Norte.
Various activities are also in the pipeline to develop markets for the product.
Ambassador Koshikawa is looking forward to seeing this project boost Ilocos Norte's competitiveness as the top garlic producer in the Philippines.
JICA Chief Representative to the Philippines Takema Sakamoto, for his part, sees this project as a win-win arrangement for the Japanese firm and the Philippines.
"This means the Japanese private sector introduces innovative and unique technology and know-how to the Philippines and in return, they learn about new promising markets and are stimulated for future investments," he said.
"This path-breaking cooperation will play an important role in boosting agriculture development, public-private partnership, job creation and income generation for farmers in the Philippines. Moreover, it will also promote a healthy lifestyle among consumers," he added. (PNA)