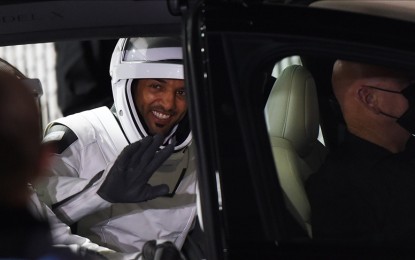 ISTANBUL – Vice-President of the United Arab Emirates (UAE), Sheikh Mohammed bin Rashid Al-Maktoum, has announced the success of Emirati astronaut Sultan Al Neyadi to become first Arab to perform a spacewalk on the International Space Station.
"After three years of intensive training, today marked a historic moment as Sultan Al Neyadi embarked on his first spacewalk," Sheikh Mohammed said.
"During this mission, he installed new components and performed maintenance on the International Space Station, becoming the first Emirati, Arab and Muslim astronaut to walk in outer space," he added.
NASA confirmed the success of Al Neyadi's and NASA astronaut Steve Bowen's mission, which lasted for nearly 7 hours.
"Bowen and Al Neyadi laid cables and installed insulation on mounting brackets on the starboard truss of the station for the installation of the next pair of International Space Station Roll Out Solar Arrays (iROSAs)," NASA said.
"It was the 261st spacewalk in support of space station assembly, upgrades, and maintenance, the eighth spacewalk for Bowen, and the first for any UAE astronaut," it added.
The UAE launched its astronaut program in 2017 to train and prepare a team of Emiratis to be sent on various scientific missions to space. (Anadolu)