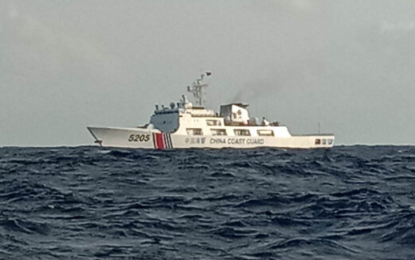 MANILA – The Department of Transportation (DOTr) on Monday said it is not deterred by the latest Chinese harassment to two vessels of the Philippine Coast Guard (PCG) within the country's exclusive economic zone.
In a statement, the DOTr said the PCG is in the legitimate exercise of Philippine rights in the area as granted by international law.
"Armed with the rule of law and the support of like-minded states, the DOTr-PCG will not be deterred by these aggressive and provocative measures irresponsibly employed to impose territorial and maritime assertions which are devoid of basis," the statement read.
On April 23, two Chinese Coast Guard vessels "intercepted" PCG vessels in the vicinity of Ayungin Shoal, exhibiting "aggressive tactics" towards BRP Malapascua and Malabrigo.
The Chinese vessel carried out "dangerous maneuvers" coming within 50 yards of Malapascua, which carries a team of journalists, resulting in a "near-collision."
Similar maneuvers were documented on April 19, involving CCG 5201 and 4202, and the Malapascua while the latter was en route to Ayungin Shoal, according to the Department of Foreign Affairs.
Recall ambassador to Beijing
Cagayan de Oro City 2nd District Rep. Rufus Rodriguez said aside from the usual filing of a diplomatic note, the Philippine government should order the country's ambassador to Beijing, Jaime FlorCruz, to return home and never to go back unless an apology is received from the Chinese government.
Rodriguez said the Philippines has filed hundreds of protest notes with Beijing over China's aggressive and bullying activities.
In 2022 alone, 193 protest notes were served on Beijing, including 65 by the Marcos administration, he said.
"All these protestations fell on deaf ears. That is why they continue to harass and bully our Coast Guard patrols and our fishermen, from the northern part of our country in Pangasinan and Zambales to the south in Palawan," he added.
Filipino and foreign journalists, including those from news agency Agence France Presse (AFP) on board Malabrigo witnessed the near-collision.
"We would have collided on the bow had I not cut the engine and thrown it in reverse," Malapascua commanding officer Rodel Hernandez was quoted as telling the journalists.
He described the encounter as one between David and Goliath, as the CCG vessel is more than twice the 144-feet Malapascua.
Rodriguez said Beijing insulted the Filipinos' intelligence by blaming the near-collision on the PCG personnel.
"It's unthinkable for a tiny craft like BRP Malapascua to provoke a huge ship like a Chinese Coast Guard patrol vessel. It defies logic," he said.
He said the CCG routinely harass and bully PCG ships and small boats resupplying Filipino soldiers stationed in Ayungin Shoal off Palawan.
"They do the same with our fishermen in Scarborough Shoal near Zambales and Pangasinan," he added. (with reports from Zaldy De Layola/PNA)