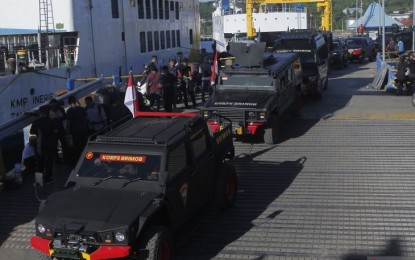 JAKARTA -- The Meteorology, Climatology, and Geophysics Agency (BMKG) intends to continuously update information related to the weather, climate, and earthquakes to support the success of the 2023 ASEAN Summit, BMKG Head Dwikorita Karnawati said.
"Specifically, BMKG also provides strategic weather information to support the safety of transportation for ASEAN's head of states and all country delegations that attend in Indonesia," she said through a statement Sunday.
The BMKG will place several equipment to monitor and detect potential earthquake and tsunami activity early.
It will also place an early warning system to detect potential forest and land fires, extreme weather, and extreme wave and potential tsunami during the entire ASEAN Summit.
Moreover, 14 BMKG stations will be readied in the entire East Nusa Tenggara Province with support from the central system.
The BMKG will also ready 190 other BMKG stations complemented with 40 radars spread across Indonesia so that the obtained data and information will be faster and more accurate.
To this end, the BMKG will cooperate with the National Disaster Mitigation Agency (BNPB), National Research and Innovation Agency (BRIN), the military/police, and local regional government.
This collaboration is undertaken to prepare an emergency response plan if natural disasters, such as earthquake and tsunami, occur.
"Given that Labuan Bajo itself is a tsunami-prone region and the ASEAN Summit is organized on the seafront and near the waters, emergency response activity will be preceded with Tactical Floor Game," she said.
Given BMKG's relatively strategic role in the ASEAN, Karnawati deemed that the agency is able to become involved in issues related to environment rescue and preservation, especially related to the aspects of weather, climate, earthquake, and tsunami early detection system.
She expects that the BMKG can play a more strategic role in ASEAN to provide broader benefits for the people of ASEAN.
The 42nd ASEAN Summit will be held in Labuan Bajo, East Nusa Tenggara, from May 9 to May 11, 2023. (Antara)