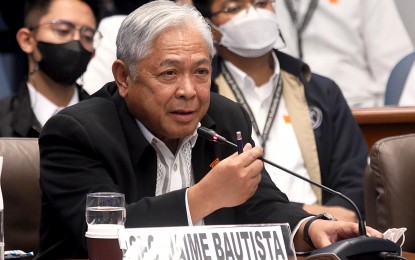 MANILA – The Department of Transportation (DOTr) and power distributor Manila Electric Co. (Meralco) are in talks to prevent the recurrence of another power outage at the Ninoy Aquino International Airport (NAIA) Terminal 3 as well as other terminals, Transportation Secretary Jaime Bautista said Monday.
In a briefing, Bautista said transport officials met with Meralco representatives even before power at the terminal was restored.
"We met with Meralco even before the power was returned. We also had discussions on how to move forward," he said.
A team from Meralco arrived at the terminal in Pasay City to assess the situation, Bautista said.
At 6 a.m., power from Meralco was restored, with the Manila International Airport Authority (MIAA) completing full energization by 8:46 a.m.
Bautista said the MIAA turned on its generator sets and partially supplied power to the check-in system, immigration system, final security x-ray, arrival baggage carousel, elevators, escalators, air conditioning, and lights.
The NAIA Terminal 3 continued to operate using generators.
Teams from both the MIAA and Meralco performed equipment tests and diagnosis to determine the cause of the power interruption.
In a DOTr news release, Meralco engineer Noel Espiritu said the power outage was caused by either faulty wiring or short circuit, which resulted in a high amount of power current and fault indicator, adding that they are still looking into the cause of the power interruption.
Bautista said MIAA would conduct a "full electrical audit" for all terminals to avoid future power interruptions and passenger inconveniences.
For NAIA Terminal 3, the full electrical audit will take three months.
The audit results will allow the MIAA to determine which critical equipment and services will be needing budgeting and subsequent procurement.
The MIAA and Meralco will conduct a joint technical assessment with assistance from an independent third party expert to determine the power interruption cause, according to Bautista.
The DOTr will also coordinate with the National Intelligence Coordinating Agency to investigate possible security issues. (PNA)