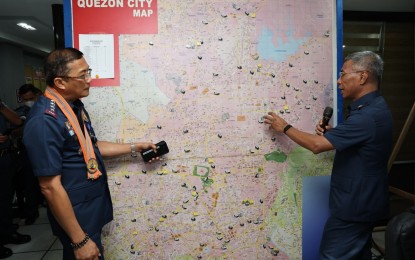 MANILA – Philippine National Police (PNP) chief Gen. Benjamin Acorda Jr. lauded the Quezon City Police District (QCPD) for its efforts to improve police response to crime incidents.
Acorda made the remark during his first command visit to the QCPD headquarters on Monday, where its Integrated Command Control Center (ICCC) is located.
The ICCC is a state-of-the-art facility that aims to achieve the Three-Minute Response Time (3MRT) of police personnel where they are located at fixed points or nearby areas for any reported crime incidents which can be replicated nationwide.
It also integrates various technologies and systems to enhance the police force's capabilities in maintaining peace and order in the district.
Acorda was welcomed by QCPD director Brig. Gen Nicolas Dela Torre III together with NCRPO director Maj. Gen. Edgar Alan Okubo and deputy director for operations Brig. Gen. Jack Wanky.
Torre said ICCC's advanced technology also enables the police force to quickly respond to emergencies and coordinate with other agencies to ensure public safety.
Acorda commended the QCPD for its efforts in implementing the ICCC and emphasized the importance of technology in modern law enforcement.
"The Integrated Command Control Center is a vital tool in maintaining peace and order in the district. The QCPD's investment in this facility is a testament to its commitment to providing efficient and effective police services to the people. As we continue to face new challenges in maintaining public safety, we must harness the power of technology to enhance our capabilities," Acorda said.
He also gave a clear and inspiring message to all the members of the district.
"Magtrabaho tayo ng maayos (Let's work well together) and always put in our heart everything we do for the betterment of the country," he added.
Acorda also expressed his gratitude to all the QCPD personnel in bestowing a warm welcome during his visit.
"You deserve beyond any appreciation, recognition, and congratulations for making Quezon City a safe and secure city. As I said, we must show to the public that we are one in rendering service within the Police Service and other Government Agencies to achieve a more progressive community," he added. (PNA)