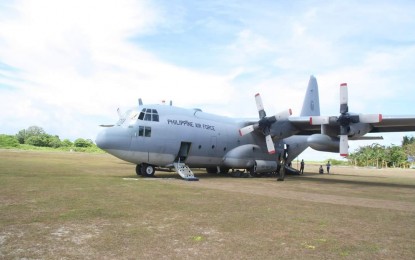 MANILA – The three additional Lockheed C-130 "Hercules" cargo aircraft that the United States will transfer to the country will greatly boost the Philippine Air Force (PAF)'s airlift and humanitarian assistance and disaster relief (HADR) capabilities.
"Any equipment/platform that can augment our cargo airlift fleet will be of great help in fullfilling our tasks of transporting personnel and logistics for our focused military operations and in our HADR (humanitarian and disaster relief) missions in response to calamities and disasters," PAF spokesperson Col. Ma. Consuelo Castillo said in a message to reporters Tuesday.
As of this time, the PAF is known to operate four models of the C-130s for transport and other related missions.
Earlier, a statement coming from the White House on Monday (US time) said the US will be helping to enhance the capabilities of the Armed Forces of the Philippines (AFP) by transferring two Island-class and two Protector-class patrol vessels and three C-130H aircraft pending "applicable Congressional notification requirements".
Additionally, two Cyclone-class patrol vessels are now enroute to the Philippines after its transfer shortly after its decommissioning on March 28 in Bahrain.
Tubbataha Reef search and rescue efforts
As this developed, the Armed Forces of the Philippines (AFP) on Tuesday said that two sites of the Enhanced Defense Cooperation Agreement (EDCA) were used as staging areas to help in the search and rescue (SAR) operations for missing divers in Tubbataha Reef.
"Three US air assets stationed in Antonio Bautista Air Base, Puerto Princesa and Benito Ebuen Air Base in Mactan, Cebu are being utilized to help in the ongoing mission to find four missing Filipino divers after their boat sunk in Tubbataha on April 30," AFP public affairs office chief Col. Jorry Baclor said.
The responsive United States-Philippines combined inter-agency operation utilizing EDCA locations was carried out at the request of the Philippine government.
In the early morning on April 30, the AFP Western Command (Wescom) deployed Navy vessel BRP Carlos Albert (PC-375) in an urgent response to information received about the sinking of a dive boat, M/Y Dream Keeper, in the said area.
Two aluminum boats of the Tubbataha Reef National Park (TRNP) were immediately dispatched and joined the SAR operations conducted by two other dive boats, M/Y Monsy and M/V Sport Palau.
Wescom has also utilized two of its air assets, a PAF W-3A "Sokol" and an AW-109E helicopter to augment the ongoing SAR operations. (PNA)