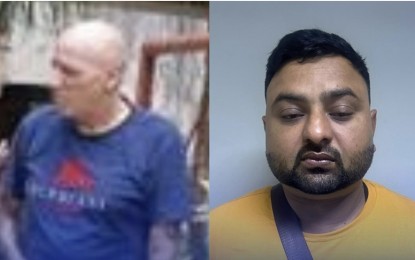 MANILA – An American and an Indian have been arrested for violating Philippine immigration laws on separate occasions in Cebu City and Pasay City, the Bureau of Immigration (BI) reported on Tuesday.
Commissioner Norman Tansingco identified the suspects as 48-year-old US national Barry Lee Jordan and 33-year-old Indian national Harwinder Singh, 33, who were arrested by operatives of the BI intelligence division in Carcar City, Cebu and at the Ninoy Aquino International Airport (NAIA) Terminal 3, respectively.
He added that both are now detained at the BI warden facility in Camp Bagong Diwa, Taguig City while undergoing deportation proceedings.
According to BI intelligence chief Fortunato Manahan Jr., the American was arrested at his partner's residence in Barangay Upper Buenavista, Carcar City on April 28.
Members of the BI's regional intelligence operations unit based in Cebu reported that Jordan had been overstaying in the country for more than seven years or since Dec. 27, 2015 when he last arrived in the country as a tourist.
It was learned that the foreigner was not able to present any travel document when confronted by the arresting team, thus he will also be deported for being an undocumented alien.
He was also charged with undesirability after being considered a threat to his community.
This came as videos of Jordan threatening a bartender with a knife circulated on YouTube.
On the other hand, Manahan also reported elements of the BI's border control and intelligence group (BCIU) at the NAIA intercepted and arrested Singh who was caught with a fraudulent entry visa on his passport on April 25.
Singh was about to board a flight to New Delhi when the immigration officer who processed him doubted the authenticity of the Philippine entry visa that is pasted on his passport.
Examination conducted by the BI's forensic documents laboratory confirmed that the Indian national's visa is counterfeit. (PNA)