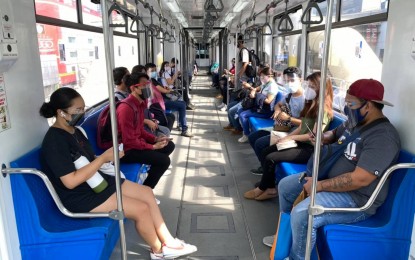 MANILA – The Department of Transportation (DOTr) on Tuesday reminded all rail services to enforce the mandatory wearing of face masks as Covid-19 (coronavirus disease 2019) cases rise across the country.
In a statement, DOTr Assistant Secretary for Railways Jorjette Aquino directed the Light Rain Transit Line 1 (LRT-1), LRT-2, the Metro Rail Transit Line 3 (MRT-3), and the Philippine National Railways (PNR) to strictly enforce the wearing of face masks in all trains and stations.
"All officials, employees, and personnel in the rail sector shall also be subjected to mandatory Covid-19 testing should anyone suffer from symptoms of the virus," Aquino said.
She reiterated that talking with other commuters or on the phone is prohibited inside trains.
"Disinfection activities shall remain consistent in all trains and stations," she said.
The order was issued after the Department of Health (DOH) recorded a 42 percent increase in average daily new Covid-19 infections -- or 637 new cases per day -- during the last week of April.
"We urge all rail operators to undertake these measures with the health and safety of each commuter on top of mind. Let us work together to ensure the safety of everyone during these challenging times," Aquino said.
Earlier, Octa Research fellow Guido David revealed that the Covid-19 positivity rate in Metro Manila increased to 17.2 percent on Saturday, more than three times the ideal five percent threshold according to the World Health Organization.
This is an increase from a positivity rate of 10.2 percent in the National Capital Region on April 22. (PNA)