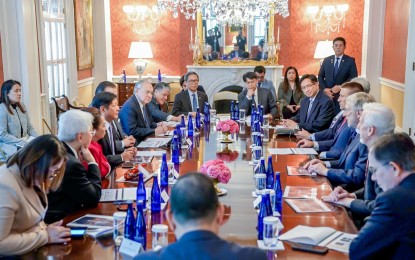 MANILA – President Ferdinand R. Marcos Jr. is considering using a "cutting-edge" micro nuclear fuel technology to address the country's power woes, Malacañang said Tuesday.
Marcos met with officials of US-based Ultra Safe Nuclear Corporation (USNC), a vertical integrator of nuclear technologies and services in Washington.
In a news release, the Presidential Communications Office said the Marcos administration has made it a top priority to ensure an unhampered supply of energy alongside the promotion and utilization of renewable energy sources.
Francesco Venneri, CEO of Ultra Safe Nuclear Corporation, expressed interest to bringing clean and reliable nuclear energy to the Philippines, which the firm is seriously considering for its first nuclear energy facility in Southeast Asia.
Venneri also vowed to help address the series of blackouts that hit several areas of the country.
The Marcos administration earlier swiftly acted on the power crisis in the provinces with the operation of at least three more power stations to provide 24-hour electricity power service.
"We also note that there's a great deal of discussion about Mindoro having blackouts and that might be an excellent….a good science [solution]," said Venneri.
The micro modular reactor (MMR) energy system is a fourth-generation nuclear energy system that seeks to deliver safe, clean and cost-effective electricity to users, according to USNC officials.
The MMR is being licensed in Canada and the US and considered the first "fission battery" in commercialization.
The company anticipates eventual heavy demand for its MMRs and its nuclear fuel and envisions the Philippines as its nuclear hub in the region.
Earlier, Oregon-based NuScale Power Corporation expressed interest to invest in the Philippines after a meeting with Marcos in Washington.
The PCO said that NuScale, which is known for developing a safe modular, and scalable small nuclear power system, is expected to invest USD6.5 billion to USD7.5 billion (PHP415.5 billion) to provide 462 megawatts to the country by the early 2030s.
Marcos said the country has a "shortfall in power supply," which could be addressed with the support of NuScale. (PNA)