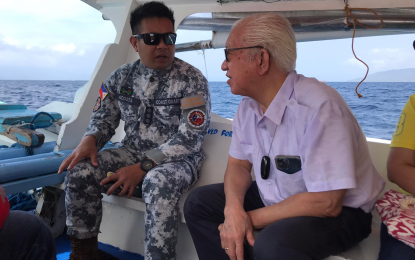 BATANGAS CITY – The leadership of Batangas has called on all stakeholders to come up with solutions to help protect and sustain the Verde Island Passage (VIP) amid fears that oil from the capsized MT Princess Empress would destroy its biodiversity.
In an interview on Tuesday, Gov. Hermilando Mandanas emphasized the VIP's importance as a source of food and livelihood in the five-province Calabarzon Region.
He said that because of the sheer number of marine species endemic to its waters, the preservation of VIP should not only be a concern for the provincial government but for the international community as well.
Mandanas, who also sits as chairperson of Calabarzon's Regional Development Council (RDC), pointed out that the VIP marine corridor is the center of the world's marine shore-fish biodiversity.
The governor quoted a recent study by Partnerships in Environmental Management for the Seas of East Asia (PEMSEA) indicating that Batangas' system of managing its Marine Protected Areas (MPAs) can serve as the template for preserving the broader VIP corridor.
Mandanas recently sailed to the VIP for an ocular visit onboard a Philippine Coast Guard (PCG) vessel and declared that oil from the shipwreck some 400 kilometers away had not yet reached these waters.
Since then, however, traces of oil have been reported in the waters of Tingloy and Verde Island, two island municipalities in Batangas situated along the VIP.
In a bid to avert a looming environmental issue, Mandanas said he is trying to get various government agencies and concerned private sector entities to meet and brainstorm on measures to ensure that the VIP would be kept pristine. (PNA)