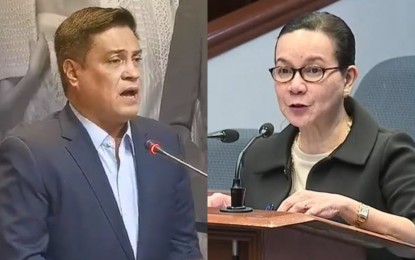 MANILA – Alarmed by the power interruptions in Western Visayas, a lawmaker filed a measure to probe the energy crisis, as Senate President Juan Miguel Zubiri proposed for the amendment of the 20-year-old Electric Power Industry Reform Act (EPIRA).
Senator Grace Poe on Wednesday filed Senate Resolution 579 that calls for a probe into the power interruptions in Panay Island and identify measures that would ensure continuous supply to consumers.
Poe said it is time to put in place a long-term solution to the power woes which have been severely impacting the daily lives of residents and economic activities in the region.
"Recurring power interruptions and massive blackouts should not be a way of life for our people in Panay Island. Concerned agencies must get a handle on the problem to end the intolerable suffering of the residents," Poe said in her explanatory note.
She stressed the need to determine the root cause of the grid disturbances reported by the National Grid Corporation of the Philippines (NGCP) which it said was due to the tripping of distribution utilities (DUs).
The proposed inquiry should also delve into the position of electric cooperatives in Panay and Negros pointing to the NGCP as the cause of the problem.
"There is also a need to look into the long-term solutions to the power interruptions and outages within the backdrop of the 'thin' supply of power in the Visayas grid," she added.
Zubiri, on the other hand, said he will support any amendment of the EPIRA law, saying President Ferdinand Marcos Jr. expressed his willingness to amend the law and make use of renewable energy to bring down the cost of power.
"We have received the administration's suggested amendments to the EPIRA, and we are already studying these, and seeing how these amendments can be further refined to best respond to the problems that we are hearing about from the power sector and especially from consumers," Zubiri said in a statement.
He also called on the Department of Energy (DOE) and the NGCP to solve the power interruptions in Western Visayas.
Zubiri said the two agencies must solve the energy crisis as it already affects the economy of the area and has also brought inconvenience to residents.
Early last week, Senator Raffy Tulfo has called the two agencies to stop blaming each other and instead concentrate and solve the power woes. (With a report from Leonel Abasola/PNA)