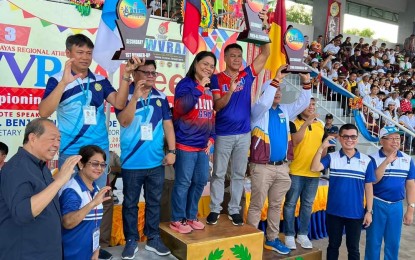 ILOILO CITY – The Department of Education in Western Visayas is hoping to retain if not clinch a higher spot in the 2023 Palarong Pambansa to be hosted by Marikina City from July 29 to Aug. 5.
DepEd regional information officer Hernani Escullar Jr., in an interview on Wednesday, said Western Visayas ranked third in the 2017 to 2019 Palarong Pambansa.
"The region will be having a series of coordination with the winning divisions and athletes in the coming days so we can ensure that their needs will be given prompt and adequate action," he said.
Escullar added that by responding to their needs, athletes will be inspired to practice and do more in their respective fields.
The national game will fall within the school break since classes will end on July 7 and the new school year will start on August based on the DepEd calendar, he said.
Currently, they are preparing for the pre-national games for team sports that will be held in Cebu this June following the successful conduct of the Western Visayas Regional Athletic Association (WVRAA) meet in Aklan from April 26 to 30.
"We will be consolidating the data for those who will proceed to the Palaro for individual events and for the pre-Palaro for team sports tentatively this June in Cebu," he said.
Escullar said that games that will be played in pre-Palaro include basketball, volleyball, softball, baseball, football, futsal, and sepak takraw based on DepEd Memorandum number 5, series of 2023.
"We will be competing with Regions 5 (Bicol Region), 7 (Central Visayas), and Zamboanga Peninsula," he said, adding that the top two regional delegations will advance to the Palaro.
The strategy is one way to lessen the number of delegations under the new normal as well as shorten the playing time for the team event.
Meantime, Iloilo was the runaway winner in the WRAA 2023 after being hailed as the champion in the secondary and elementary levels regular games and para games.
In the special awards, Capiz was declared the Most Disciplined Delegation while Guimaras won the Best in Uniform, Best in Saludo, and Most Festive Delegation awards. (PNA)