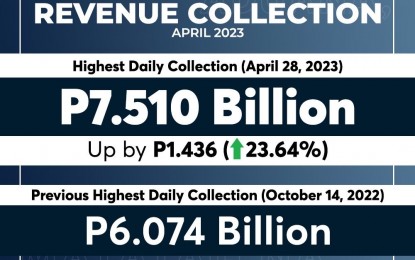 MANILA – The Bureau of Customs (BOC) on Wednesday announced that it achieved a significant milestone last month with a record-breaking daily collection of over PHP7.5 billion.
In a statement, the bureau said the daily collection was recorded on April 28, 2023 after it collected a total of PHP7.510 billion.
It noted that the present feat surpassed the agency's previous highest daily collection of PHP6.074 billion on Oct. 14, 2022, by PHP1.436 billion or 23.64 percent.
Customs Commissioner Bienvenido Rubio said the remarkable performance can be attributed to their continuous efforts to implement proper valuation which resulted to a notable increase in revenue collection.
He added that the record-breaking daily collection demonstrates their commitment to achieve their target and contribute to the government's efforts to generate funds for its various programs and projects.
Rubio expressed his gratitude and appreciation to BOC employees and stakeholders for their dedication and hard work that led to this latest achievement.
On Tuesday, the BOC reported a PHP74 million collection surplus for April 2023.
Last month's PHP68.274 billion revenue collection surpassed its target collection of PHP68.199 billion. (PNA)