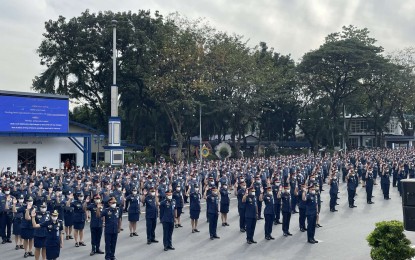 MANILA – The results of the screening by the five-member advisory group of the courtesy resignations of third-level police officials would be announced in two days, Department of the Interior and Local Government (DILG) Secretary Benjamin Abalos Jr. said Wednesday.
Abalos made the clarification after retired Philippine National Police (PNP) chief Rodolfo Azurin Jr., who is one of the members of the body, said they have recommended the filing of raps against four ranking police officials for their alleged involvement in illegal drug activities.
To avoid public confusion, Abalos clarified that the PNP officers whose resignations were accepted were from the more than 950 police generals and colonels who were asked to resign as part of the PNP's cleansing process.
"So eto (courtesy resignations) ngayon ang tatalakayin, ilan dito (police officers) ang tinanggap ang resignation, ilan ang hindi tinanggap ang resignation at ano ang mangyayari (there were some whose resignations were accepted, a number of the resignations were rejected, so what will happen)? We will make that statement in two days. We just want that when we make a statement talagang airtight ang lahat na ito," Abalos told reporters on the sidelines of the signing of the agreement between the DILG and the United States Agency for International Development (USAID) to strengthen the community-based drug rehabilitation (CBDR) and the agency's anti-illegal drug program dubbed "Buhay Ingatan, Droga'y Iwasan" (BIDA).
He lamented that the courtesy resignations of these police officers is now with the National Police Commission (Napolcom) which he heads together with the other members -- PNP chief Gen. Benjamin Acorda Jr., Napolcom vice-chairman Alberto Bernardo and other commissioners.
"Actually, kahapon (May 2) nag-usap na kami rito (Yesterday we already had a discussion). I just want to reassure the public that we will make sure that there will really be a house cleansing but we also want to make sure na talagang lahat ng legalities ay observe natin rito (that all legalities are observed)," Abalos said.
Meanwhile, Abalos said an investigation into the discovery of more than 900 kilograms of shabu is still ongoing.
"We are waiting on that pero yun namang ginawa ng Napolcom dito sa 900 kilos hindi pa rin tapos ito. Ito yung nasa videotape na sinasabi ko nga ganun is that there are so many questions to be answered (The Napolcom probe on the 900 kilos of shabu remains unfinished. This is what was shown in the video tapes, like what I said there are so many questions to be answered)," Abalos explained.
Azurin earlier said they recommended the filing of charges against two police generals and two police colonels.
Azurin, who bowed out of the service on April 24 upon reaching the retirement age of 56, said the advisory group made the recommendation to the Napolcom
"We submitted our recommendation for Napolcom to conduct the investigation for the administrative cases that will be filed against them," said Azurin.
In a separate TV interview, PNP chief Gen. Benjamin Acorda Jr., assures that all personnel involved in illegal drugs will be properly charged.
"The PNP will work on that. When I say the PNP, it includes the investigation of the SITG (Special Investigation Task Group), PDEG (PNP) Drug Enforcement Group), the IAS (Internal Affairs Service) and the Napolcom). So we will cooperate to make sure that all these police officers involved will be charged administratively and criminally)," Acorda said.
Acorda also hopes that this would serve as wake-up call for police officers to refrain from engaging in illegal activities.
"May I take advantage of this situation to announce to our police officers kasi baka malungkot sila, baka yung tinitingnan yung mga pagkakamali ng operations. Ang sa atin lang hinihiling ko sa ating kapulisan that gawin lang natin ang tama, walang magre-recyle, walang magbibigay ng reward sa informant ng drugs, walang mangyayari sa atin kundi talagang puro rewards ang makakamit ng ating kapulisan, walang punishment but kung iiwas tayo diyan, gagawa tayo ng kalokohan definitely we will go after these actions (May I take advantage of this situation to announce to our police officers because they might get disappointed, they might think we are only after operational mistakes. The only thing I ask of our police is that we do the right thing, no one will recycle, no one will give drugs aa reward to the informant, nothing will happen to us. If our police will do the right thing they will be rewarded, there will be no punishment but if we go astray and do something stupid, we will definitely go after these actions)," he stressed.
Acorda also said that with regards to the naming names of those involved, they will announce in the press conference with Napolcom and DILG but have put together all the records and will come up with one press statement.
Abalos earlier called on all full-fledged police colonels and generals to file their courtesy resignation in a bid to weed out the police organization of erring members, especially those involved in the illegal drugs trade.
The DILG chief's move stemmed from the arrest of Master Sergeant Rodolfo Mayo Jr. during a drug operation in Manila in October 2022 which yielded over a ton of shabu. (PNA)