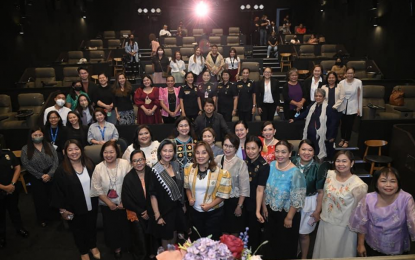 MANILA – The Climate Change Commission PH (CCC) underscored the role of women in climate action, particularly in mainstreaming gender-responsive adaptation and mitigation measures such as through increasing women's participation in decision-making processes.
This was highlighted by Commissioner Rachel Anne Herrera, also the CCC Gender Focal Point System chairperson, during the official launch of the Women's International Network on Disaster Risk Reduction-Philippines (WIN DRR PH) at the Director's Club, SM Mall of Asia, Pasay City last April 27.
"The CCC welcomes the WIN DRR as a galvanizing force of women visionaries and leaders in the continuing work to mainstream gender in our national roadmaps toward climate and disaster resilient development. With women at the forefront, we can be assured that community-based interventions to adapt to climate and disaster impacts are equitable and effective," Herrera said.
"We need to integrate gender considerations throughout the planning, financing, and implementation stages of policies and programs on climate change. The CCC will continue to ensure that women's voices are heard, and their needs are addressed in the fight against the climate crisis," CCC Vice Chairperson and Executive Director Robert E.A. Borje, for his part, said.
In her keynote speech, Senate President Pro Tempore Loren Legarda reiterated that climate change affects men and women differently, with women being more vulnerable due to cultural and societal roles and prevailing gender inequalities.
Legarda, one of the founding members of WIN DRR, emphasized the indispensable contribution of women—from grassroots groups to global organizations—which plays a crucial role in climate action and disaster risk reduction, both as leaders and as agents of change.
Aside from leadership and decision-making roles, women have unique knowledge and skills in embedding sustainable practices in food production, water collection and energy management.
"Women should be provided the needed support to have the confidence and wherewithal to lead and be at the forefront of efforts to improve Filipino communities and pursue initiatives that will contribute decisive actions towards the nation's sustainable and equitable progress," Legarda said.
Legarda authored Republic Act 9729, or the Climate Change Act, which mandates a gender-responsive approach in designing and implementing all climate change and renewable energy efforts, plans and programs.
WIN DRR PH is a growing professional network that supports women working in disaster risk reduction in all their diversity. The overall goal of this movement is to empower women and enhance their role in decision-making in disaster risk reduction in the Asia-Pacific region by promoting and supporting women's leadership.
The Philippine Chapter of the WIN DRR, in its primary stage, is being shaped under four pillars: governance, policymaking, education and community capacity building.
Under these pillars, WIN DRR PH aims to coalesce women leaders across multiple sectors under the common goal of disaster risk reduction.
SM Supermalls Vice President for Corporate Compliance Group Liza Silerio, former PCW Chairperson Sandra Montano, Dr. Emma Porio, member of the CCC's National Panel of Technical Experts, and BFP Chief Superintendent Belinda Ochave joined Legarda and Herrera in the event.
WIN DRR is supported by the United Nations Office of Disaster Risk 333Reduction, the Australian Government in the Philippines, SM Prime Holdings, Inc. and Asia Pacific College. (PR)