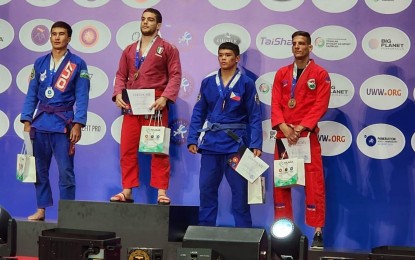 MANILA – A Filipino grappler will be seeing action in the World Combat Games (WCG) after making the qualifications.
Eighteen-year-old Fierre Afan made the cut after clinching the bronze medal in the qualifying round recently in Tashkent, Uzbekistan.
Afan beat Armenia's Suren Khurdayan, 4-3, for the bronze in the men's Gi 71kg division and the spot in the main tournament that will take place from Oct. 21-30 in Riyadh.
"I'm very proud of him and he is a pure Filipino. When he was younger, he fought and got third in the World Grappling Championships. Now, he is heading to the World Combat Games as our first qualified combat athlete," Wrestling Association of the Philippines president Alvin Aguilar said on Wednesday.
Aguilar will serve as the Philippine team's chef de mission (CDM) for the WCG, but Afan will be the only athlete in the team.
During the preliminary rounds, Afan bested Venezuelan Geiker Rafael Ferrer Torrealba and Iranian Iman Aghapour but lost to Uzbekistan's Feruzbek Urokov in a very close fight before meeting his Armenian foe in the battle for bronze.
"As the CDM of World Combat Games, we are excited to see him compete there. This is the first time any Filipino has qualified for this. He was up against all sorts of older and seasoned competitors," added Aguilar, who is also Afan's longtime chief trainer. (PNA)