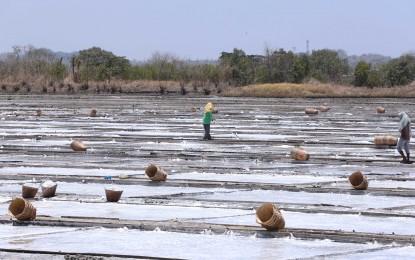 MANILA – To revitalize the country's salt industry and reduce our dependence on importation, Senate President Pro Tempore Loren Legarda is batting for the passage of a measure that seeks to provide attractive incentives to industry investors.
In pushing for Senate Bill No. 1870, or an Act Strengthening and Revitalizing the Development of the Salt Industry in the Philippines, Legarda, in a press release said on Thursday, that the country's salt industry has the potential to be a significant driver of economic growth and income-generating opportunities for the Filipino people.
She pointed out that the possibilities of the salt industry for the Philippines' overall economic performance are endless, but noted that over the past years, the country has been importing around 550,000 metric tons of salt, equivalent to 93 percent of the nation's salt requirement.
The Philippine Association of Salt Industry Networks (PhilAsin) expects these numbers to increase in the coming years because of the rapidly growing population.
Thus, Legarda said that government support is vital in addressing the challenges and gaps in making the salt industry competitive, reduce dependence on importation, and create more conducive jobs for salt farmers.
To boost local production, the advocate for sustainable livelihood programs emphasized providing substantial and attractive incentives to investors.
The lawmaker added that salt farmers should be given priority through financial and technical assistance that can promote sustainable salt production.
These can be through machines, new technologies, and elaborated research and development studies to identify further and support the industry's changing needs, she said.
Likewise, more improved policies should be considered, as well as a diverse collaboration between government agencies and stakeholders that will shepherd the formulation and implementation of the Philippine Salt Industry Development Roadmap.
"As legislators, the future of the salt industry lies in our hands. We should all consider this a shared aspiration and commitment to act tirelessly to save what's left of the industry. We will all benefit from this sector's potential for our nation's inclusive growth," Legarda said. (Leonel Abasola/PNA)