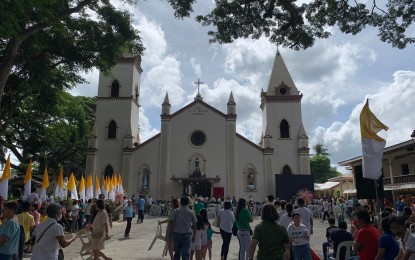 CUENCA, Batangas – The Archdiocese of Lipa on Thursday officially designated the Parish church of St. Isidore Labrador an Archdiocesan Shrine, in grand ceremonies attended by the Catholic hierarchy, prominent members of this town as well as ordinary townsfolk.
Under Catholic Church tradition, designation as an Archdiocesan Shrine is the final step before a holy place is declared a "national shrine."
The church's elevation to an archdiocesan shrine was made ahead of the feast day of Saint Isidore on May 14.
The consecration was presided over by the Archbishop of Lipa, Most Reverend Gilbert Garcera, DD and Bishop Moises Cuevas, himself a native of Cuenca.
In an interview, Rev. Fr. Armando Lubis, parish priest of St. Isidore, called the event a "big celebration and a historic event for the town."
"This monumental event signifies the parish as the center of devotion and place of pilgrimage to St. Isidore," Lubis added.
About 50 other Catholic priests witnessed the consecration.
Present during the ceremonies were Batangas Vice Governor Mark Leviste, Cuenca Mayor Alex Magpantay, Vice Mayor Nene Pantas, former mayors Faye Endaya, former vice mayor Romy Cuevas, and incumbent and former councilors of the town, among others.
The ceremonies took place amid the deployment of about a dozen uniformed police officers and an undetermined number of barangay tanod members, who encircled the church as part of security measures provided by the local government.
Following the ceremonies, Lubis urged the Catholic faithful to "strengthen their faith and live a simple life as it is the hallmark of a true devotion as exemplified by St. Isidore." (PNA)