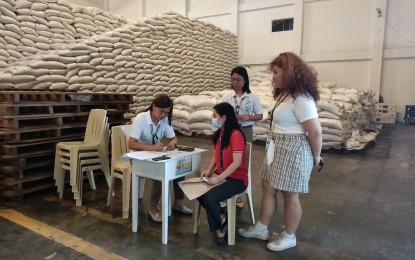 LAOAG CITY – Eligible government workers and employees in the province of Ilocos Norte will get a one-time rice assistance courtesy of the national government.
In Ilocos Norte, the National Food Authority has set aside a total of 11,280 sacks of rice weighing 25 kilos each for the program.
NFA Branch Manager Jonathan Corpuz confirmed this on Thursday as they began distributing rice to qualified employees of various national government line agencies here.
"At the moment, over 300 bags of rice were already distributed to the target recipient," he said, adding that the deadline for distribution is set for May 19.
Among the first batch of beneficiaries were personnel from the Department of Education, Philippine Fiber Industry Development Authority, and the Bureau of Treasury, among others.
Earlier, the Department of Budget and Management (DBM) released to the NFA a total of PHP1,182,905,000 for the grant of a one-time rice assistance to all qualified employees and workers of national government agencies.
DBM Secretary Amenah Pangandaman approved the Special Allotment Release Order (SARO) and corresponding Notice of Cash Allocation (NCA) on April 12, 2023.
"As directed by President Ferdinand R. Marcos Jr., we shall ensure the welfare of our government workers by giving them assistance for their household needs and, at the same time, boosting the production of our rice farmers," said Pangandaman in a statement.
Under the rice assistance program, around 1,892,648 government workers, including job orders and contracts of service personnel who are still in the government service or engaged by government agencies as of Nov. 30, 2022, were included as beneficiaries.
Aside from national government workers, employees of the Ilocos Norte government were also included in the one-time rice assistance program. The list of beneficiaries, however, is still being finalized as of this posting.
"We are grateful to be included in the program because we don't have a rice farm where we could get our rice supply," said Irene Ringor, an employee of the provincial government. (PNA)