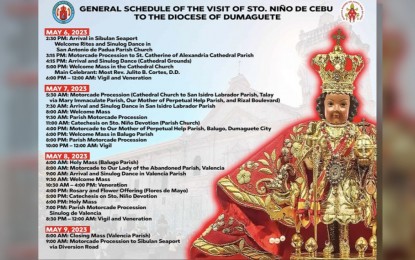 DUMAGUETE CITY – The Diocese of Dumaguete is ready for the visit of the pilgrim image of the Sto. Niño de Cebu this weekend as part of the commemoration of the "Kaplag", or the finding of the original icon in Cebu some 450 years ago.
The pilgrim image of the Child Jesus will arrive here on Saturday, May 6, and will stay up to May 9. It will be brought to different parishes in the diocese, said Fr. Hendrix Alar, assistant coordinator of the religious activity.
Dumaguete Bishop Julito Cortes will preside over the mass during the arrival of the pilgrim image at the Cathedral of St. Catherine of Alexandria. Prayer vigils will follow afterward before the visit of the Sto. Niño image to the other parishes, Alar said.
According to Alar, the visit of the Sto. Niño pilgrim image here forms part of the "Kaplag" celebration in Cebu late last month, as it has been a practice for it to be brought to different dioceses in promotion of the deepening of the Catholic faith.
The last time the Sto. Niño pilgrim image visited the Diocese of Dumaguete was in 2015. (PNA)