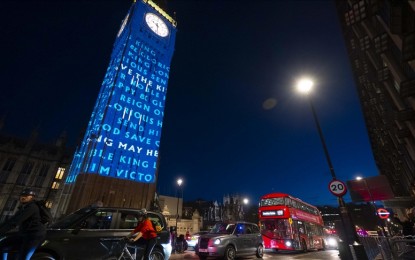 LONDON – The British economy is expected to see an £8 billion (nearly USD billion) boost over King Charles' coronation weekend, according to research from UK savings site VoucherCodes.co.uk Thursday.
During the upcoming coronation bank holiday weekend, there is expected to be an additional £3.22 billion spent by the nation on retail, hospitality and travel and tourism, in addition to the typical £4.80 billion spent during a May bank holiday weekend.
The majority of the spending is expected to be on street party supplies purchased at supermarkets, convenience stores and corner shops, while other items such as decorations, souvenirs and memorabilia and coronation-related items are also predicted to be popular.
The impact of the ceremony on the economies of some of the major cities in the UK has also been assessed, with London projected to receive the largest benefit of £693 million in spending over the weekend.
This is not surprising, given that the capital is the hub of the coronation celebrations, but other cities are also expected to benefit from increased spending.
Birmingham is expected to see £87 million spent, Manchester £43 million, Newcastle £36 million and Leeds £32 million. (Anadolu)