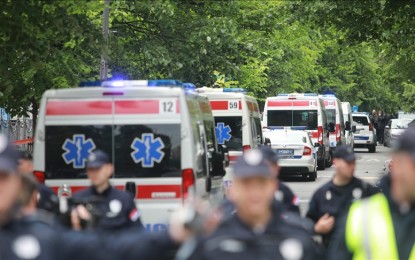 BELGRADE, Serbia – At least 10 people were killed and 15 injured when a man opened fire late Thursday in several locations in Serbia.
Local media reports said a 21-year-old man identified by police as Uros Blazic, a son of a member of the Serbian military, randomly fired from a car with an automatic rifle, killing a police officer and his sister as well as six other people, who later succumbed to their injuries. At least two other people were also reportedly killed.
At least 25 people have been reportedly shot, including women and children.
The initial shootings took place in the town of Mladenovac, 42 kilometers (26 miles) south of the capital Belgrade, following an argument in a schoolyard and continued in two neighboring villages.
A warrant has been issued for Blazic's arrest.
The Interior Ministry announced that an operation has been launched, as the perpetrator is on the run, and all available patrols have been sent in the direction of Mladenovac and Mali Pozarevac.
A large number of police officers with bulletproof armor and helmets sealed off streets and helicopters are flying over the villages.
The special forces do not allow anyone to approach the villages where the shootings took place as the killer is suspected to be hiding in the village of Sepsin.
There is no official information about whether he was surrounded or shot at by the police.
Ambulance and police teams are at the scene of the incident.
Meanwhile, Health Minister Danica Grujicic and Director of the Security Information Agency Aleksandar Vulin arrived at the emergency center where the wounded are receiving treatment.
The latest incident comes a day after a school shooting.
Eight students and a security guard were killed when a teenage boy opened fire in a school in Belgrade, authorities said Wednesday.
Another six students and a female teacher were injured in the incident, which took place at Vladislav Ribnikar Primary School around 8.40 a.m. local time (0640GMT), according to the Interior Ministry.
The 14-year-old suspect, identified only by his initials, K.K., has been arrested, the ministry said.
The Turkish Foreign Ministry expressed sorrow over the incident. (Anadolu)