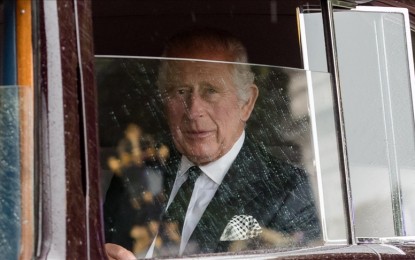 BIRMINGHAM, England – King Charles III will be wearing various historical garments that symbolize his commitment to the Church of England and the throne during his coronation with Queen Camilla at Westminster Abbey in London on Saturday.
Charles will put on the Colobium Sindonis, which is Latin for shroud tunic, which represents the priest's vestment, symbolizing the divine nature of the monarchy.
He will then wear a long gold-sleeved robe for the crowning called the Supertunica, which weighs 2 kg. and is made of cloth of gold in which the silk thread is wrapped in thin pieces of gold or silver.
Over the top, Charles will wear the Imperial Mantle. Its priestly style symbolizes the divine nature of kingship and like the Supertunica, it is also made of cloth of gold.
During the coronation that will be conducted by the Archbishop of Canterbury, Charles will be crowned with the historic St. Edward's Crown while Queen Camilla will wear a modified version of Queen Mary's crown, made in 1911.
St. Edward's Crown is 400 years old and weighs 2 kg. It is solely made up of gold and precious stones, and a monarch can only wear it once in a lifetime.
Charles III will be presented with the Orb and the Sovereign's Scepter representing the monarch's religious and moral authority.
He took the throne in September after the death of his mother, Queen Elizabeth II. (Anadolu)