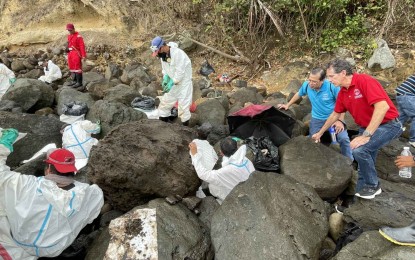 CALAPAN CITY, Oriental Mindoro – The Philippine Coast Guard (PCG) announced on Thursday evening that about 34 km. of shoreline in oil spill-affected areas in Oriental Mindoro province have been cleaned up.
The cleanup rate at the coast of Naujan town, which is nearest to the M/T Princess Empress shipwreck, has reached roughly 75 percent, according to the ranking PCG officer on the scene.
"Rest assured that the PCG's marine environmental front-liners will remain steadfast in its shoreline cleanup, resurvey, and continuous monitoring for possible new sightings of oil while awaiting and after the actual siphoning operations," said Commodore Geronimo Tuvilla, commander of the PCG's Incident Management Team.
He added that more than 85 percent of the coastline of Pola, a town next to Naujan, was already "acceptably clean."
The PCG also posted on its social media account images taken before and after the cleanup operations to show how much has been accomplished.
As of Thursday, the PCG recorded 6,070 sacks or approximately 151,750 kg. of oil-contaminated debris collected from the affected areas since the cleanup began on March 1.
The actual cleanup operations are being jointly undertaken by the PCG's Marine Science Technicians, the Department of Social Welfare and Development, Harbor Star Shipping Services, Inc., and other volunteers.
Meanwhile, the Department of the Interior and Local Government and Bureau of Fisheries and Aquatic Resources have jointly designated four alternative fishing areas for fisher folk who have been economically displaced by the environmental calamity.
Oriental Mindoro Governor Humerlito Dolor said on May 9, he would make a significant announcement regarding the fishing ban currently being enforced in oil-contaminated waters.
Latest government figures indicate that about 31,524 families have been directly affected by the oil spill. (PNA)