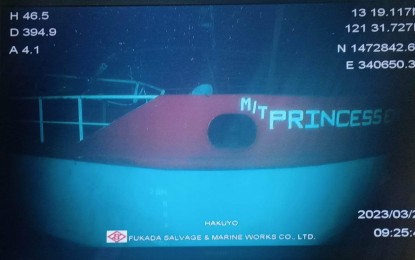 CALAPAN CITY, Oriental Mindoro – The Department of Environment and Natural Resources (DENR) on Thursday revealed that a partnership is currently taking shape between the government and the local shipping industry in hopes of preventing future oil spills.
It was disclosed that DENR Secretary Antonia Loyzaga had just met with top shipping executives in an effort to identify and address gaps that could lead to mishaps at sea, such as those that led to the capsizing of MT Princess Empress on Feb. 28.
It was this ill-fated ship's cargo of 900,000 liters of industrial fuel that leaked and contaminated the surrounding ocean, economically displacing over 31,000 families in Oriental Mindoro province.
"The first thing we need to do is change the way people think about disasters because right now people think about response. We need to prevent the risk and that needs to be translated in the policies, in the processes, and in the technical capacities of the people that are actually implementing these laws," Loyzaga told the shipping executives.
A recent DENR report placed the damage created by the Oriental Mindoro oil spill at around PHP7 billion.
"Our commitment with them (shipping sector leaders) is that we will sit together and come up with a technical working group on the policy change that needs to happen with emphasis on prevention. We need to actually look at the legislation that needs to be updated," said Loyzaga.
Among the gaps identified in the initial discussion were the classification of ships and the number of permits issued for specific purposes.
The Cabinet official credited the shipping executives for reaching out to the DENR to find possible areas of collaboration. (PNA)