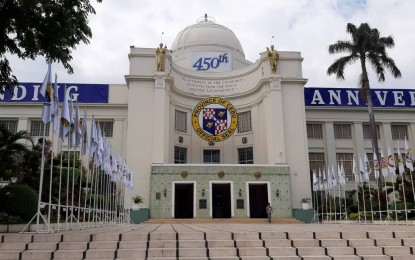 CEBU CITY – Cebu provincial government's assets are expected to jump by more than PHP200 billion once the six major reclamation developers deliver the real properties corresponding to 10 percent of each of their entire projects in favor of the Capitol.
Governor Gwendolyn Garcia on Friday said she met with the representatives of the six companies, along with the officials of the Cebu Provincial Reclamation Authority (CPRA) in a meeting on Thursday.
According to the capitol's Public Information Office, the six companies that have agreed to give the 10 percent share of reclaimed lots to the province are the Cebu Industrial Park Developers Inc., Cebu South Harbor Container Terminal Corp., Dynacast Ship Building and Repair Inc., Global Business Power, Therma Visayas Inc. and Cebu South Port Infrastructure Corp.
The governor invoked Provincial Ordinance (PO) No. 2022-09, amending PO No. 2009-02 which said that any reclamation developer must turn over 10 percent of their reclaimed land to the provincial government.
The ordinance said the share could be given in three ways -- 10 percent of the usable land; monetary value of the reclaimed land, the value of which should be based on the zonal value, appraised value or the market value, whichever is higher; and lot swapping wherein the land to be swapped should have the same zonal, appraised, or market value.
"Once implemented, this is expected to add all the more to the provincial government's nationwide-leading assets which, according to a COA 2021 report, now stands at over PHP215 billion," the capitol's statement said.
Accordingly, Cebu is the only province in the Philippines that has breached the PHP200 billion mark in terms of assets.
Cebu ranked third in terms of liabilities at PHP5.88 billion. (PNA)