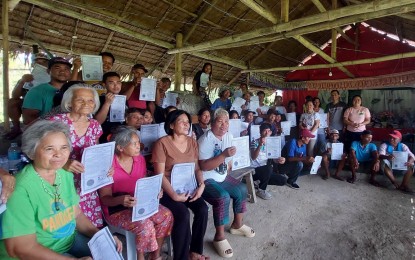 BACOLOD CITY – Some 209 farmers received certificates of land ownership award (CLOAs) for agriculture lands located in two localities in northern Negros Occidental in April, data from the Department of Agrarian Reform (DAR) on Friday showed.
Among the beneficiaries are 49 farmers given the owner's duplicate copy for a 21.23-hectare property, formerly managed by Danao Development Corp., in Barangay Salamanca, Toboso on April 25.
Municipal Agrarian Reform Program Officer Jasmin Castillo told the farmer-beneficiaries to protect and continue cultivating the lands they now own.
"Pay your taxes regularly and refrain from getting involved in illegal arrangements that may lead to your disqualification," she said.
On the same day, some 40 farmer-beneficiaries obtained the CLOAs for the 8.99-hectare landholding formerly owned by Braulio Lumayno in Barangay Pinapugasan, Escalante City.
A total of 36 agrarian reform beneficiaries (ARBs) also received the owner's duplicate copy of their land titles covering 19.44 hectares situated in Barangay Jonob-jonob and Barangay Binaguiohan, both in Escalante City.
The CLOAs for the properties previously managed by Melania Cuaycong and Luzon Surety Corp. were distributed on April 14 and 20.
Municipal Agrarian Reform Program Officer Rainet Sancho assured the new landowners the DAR will continue to extend to them the necessary support services.
Still in Escalante City, a total of 60 ARBs were awarded land titles to 59 hectares of properties formerly owned by the group of Gene Ledesma and Rosario Carcueva in Barangay Libertad and Barangay Paitan on April 12 and 13.
Some 24 farmer-beneficiaries also became owners of 7.54 hectares of property previously managed by Virginia Ferrer after receiving the land titles in Barangay San Isidro, Toboso on April 4.
The DAR Negros Occidental-I North facilitates the awarding of land titles through the process of land acquisition and distribution under the Comprehensive Agrarian Reform Program Extension with Reforms.
Under the program, public and private agricultural landholdings are acquired by the government to be distributed to tenants, farmers, farmworkers, and/or other tillers qualified to become ARBs, in the form of CLOAs covering one contiguous tract or several parcels of land cumulated up to a maximum of three hectares per beneficiary. (PNA)