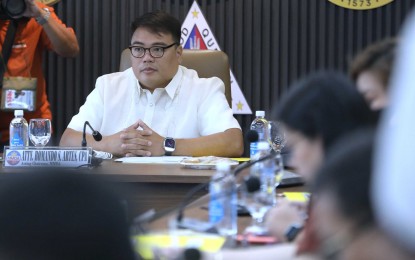 MANILA – The pilot run of the single ticketing system (STS) across several cities in the National Capital Region went well and received positive feedback, according to the Metropolitan Manila Development Authority.
"The STS's implementation in the five cities where it was launched initially was successful. No major issues, concerns, or complaints have been reported. Our focus now is on some adjustments that must be made in the coming days. So far, we are doing good," said MMDA acting chair Don Artes, who presided over the Metro Manila Council meeting on Friday.
The pilot run started on May 2 in the cities of San Juan, Parañaque, Muntinlupa, Valenzuela and Quezon City.
The STS enables interconnectivity among government agencies involved in traffic management through a single system of fines and penalties.
It also simplifies and digitizes the payment of penalties to help cut red tape and limit opportunities for corruption.
Artes said among the adjustments towards its seamless implementation are the training of traffic personnel on the use of new gadgets, distribution of handheld devices, and body cameras.
"Digital handheld devices have already been procured and are now being customized for use by LGUs [local government units]. This month, we will begin the distribution to LGUs, initially in the five cities where the STS was rolled out," Artes said.
LTO Regional Director Noreen San Luis-Lutey said most of the issues encountered are related to familiarity with the system, which she said was acceptable since this is the first time to be implemented.
Other glitches were also encountered in the uploading of information of violations, access to the portal, activation of online payment systems, among others.
"We will continue to get feedback and look for ways to improve the system," Lutey said.
San Juan Mayor and MMC President Francis Zamora said the pilot run in San Juan City was smooth and received good feedback from the public, attributing this to the changes introduced by the system that benefited motorists.
"Driver's licenses are not just confiscated anymore; there is a uniform set of fines imposed for the 20 most common traffic violations in Metro Manila, and there is the option for online payment of fines. We are excited with the development and rolling out of STS to other cities," Zamora said.
Meanwhile, with the foreseen onset of El Niño from July to early next year, the MMDA and Metro Manila mayors have agreed to initiate measures that will address the effects of the expected drought.
Artes said the local chief executives agreed to create a task force together with the Office of the Civil Defense, Metropolitan Waterworks and Sewerage System, and the Philippine Atmospheric, Geophysical and Astronomical Services Administration to discuss strategies on lessening the impact of the El Niño phenomenon on the country's water supply. (PNA)