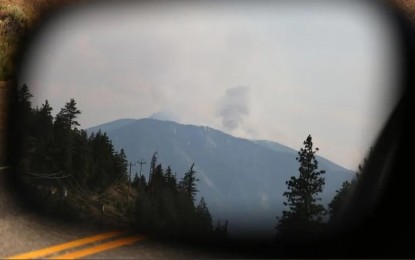 TRENTON, Canada – Hot temperatures and windy conditions have fed 78 wildfires and as of Friday, forced the evacuation of more than 13,000 residents in the province of Alberta, according to officials.
And the news could get worse as the province is a tinderbox, said Alberta Wildfire Information manager Christie Tucker.
"We're expecting very warm weather and extremely strong winds, particularly in the northern half of the province," Tucker said at a news conference. "This is not great for wildfire activity that tends to cause very active wildfires and our folks on the ground are going to have to be very careful about their own safety and of course the safety of the communities that they're protecting."
About 80 firefighters are scheduled to arrive Saturday from Ontario and Quebec to help combat the fires, 19 of which are out of control.
The federal government said it is prepared to offer support if asked.
"While we have not received a request for federal assistance from the Government of Alberta, we stand ready to support them if federal aid or resources are required," the office of Safety Minister Bill Blair told Global News in a statement.
To date, there have been no reports of fatalities. (Anadolu)